Active Transportation
Active Transportation
Main Page Content

Active transportation is all about getting our bodies moving! It involves using "self-propelled" transportation such as bicycling, walking or running, in-line skating or skateboarding, skiing or snowshoeing, to help get us around where we need to go. Active transportation offers many benefits to us, and the communities we live and grow in.
The County of Essex's County Wide Active Transportation System (CWATS) partners have worked to install bike repair stations around the County to provide a fixed platform for cyclists to re-inflate tires, tune bikes and make repairs while away from home. Currently, there are 3 stations that have been installed along the CWATS network to improve the reliability of cycling as a mode of transport or recreational activity.
Locations:
Rotary (1918) Centennial Hub, Howard Ave. Diversion (County Rd. 9)
Chrysler Canada Greenway – Harrow Rotary Community Entrance (26 Sinasac St E, Harrow, ON)
Chrysler Canada Greenway – Kingsville Train Station Community Entrance (169 Lansdowne Ave, Kingsville)
The repair stands incorporate a range of tools such as screwdrivers, tire levers, chain tools and an integrated pump with a pressure gauge.
These public pumps are more user-friendly and a quicker alternative to portable bike pumps. Stay tuned for more repair stations around the County of Essex as we become a more cycle-friendly community.
Instructional Videos
To learn more about how to use the new bike repair stations, a series of short videos have been produced to help you.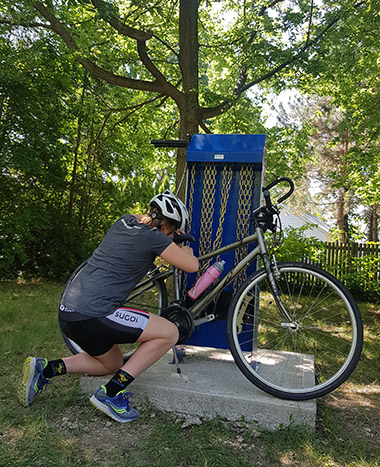 Some benefits include:
Health and fitness
Active transportation, is a great way for us to stay active and has many health benefits such as reducing the risk of chronic diseases such as diabetes, heart disease, high blood pressure, certain types of cancer and can help with stress, depression and anxiety.
Transportation
Walking and cycling are great forms of transportation activities that are efficient, affordable, and accessible and are the most energy efficient types of transportation that generate no pollution. Active transportation such as cycling and walking can help with reducing road congestion, maintenance/infrastructure and decrease user costs (i.e., gas and maintenance for your motor vehicle)
Environment
Active transportation is friendly to the environment by helping to reduce air pollution, reduce traffic congestion, greenhouse gas emissions and to preserve green space that would normally have been used for new motor vehicle facilities such as roadways and parking lots.
Economic
There are economic benefits of active transportation such as reduced costs to fuel, repair, and maintenance of an individual's vehicle.  Active transportation can help increase tourism (e.g., bike tourism; promotion of trails and their amenities) in communities that promote biking and hiking on trails, and can help increase property values along greenways, trails, and paths.
County Wide Active Transportation System (CWATS) 
CWATS is a forward-looking initiative that works to enhance and expand the County of Essex active transportation system and supports the broader community vision of giving people the opportunities to get active and enjoy the beautiful sights and sounds of the area and their communities. . The on-going collaboration with local municipalities and community partners has helped the County develop a CWATS network that connect people to local active transportation facilities and places of interest around the Windsor-Essex Region. CWATS facilities and programs help people live more active lifestyles, enabling them to "Walk, Ride, County Wide." Once completed, routes in all of our local towns, ERCA trails, City of Windsor and the Municipality of Chatham-Kent will be connected. Check out the CWATS website to learn more about the strategic plan, resources for active transportation such as bicycle safety, and maps of the trail routes and much more!
---
The purpose of the Committee is to enhance the safety and viability of bicycling in the City of Windsor.  It acts as an advocate for the growth of bicycling as a form of recreation and transportation that is affordable, energy efficient, non-polluting, quiet, and promotes fitness.  The committee acts as an effective advisor to Council and City departments on matters relating to bicycling in Windsor.  For more information on upcoming events, bike locker rentals and resources for cycling visit their information page at cyclewindsor.ca.
---
The Walk Wheel Windsor Active Transportation Master Plan was developed as a vision along with policies and actions to guide the development of safe, attractive and convenient active transportation options for people of all ages and abilities over the next 20 years. The focus has been on creating active transportation opportunities to get people where they need to go—work, school, appointments and activities.
---
Bike Windsor Essex, advocates for safer cycling infrastructure and public and government acceptance and support for cycling as a legitimate means of transportation. The organization seeks to help make our region more bicycle friendly by advocating for adequate funding for improved cycling infrastructure; networking with local, provincial, national and international cycling organizations to share best practices and to monitor current trends; organizing and supporting events that promote fun and safe cycling; and acting as a liaison for all cyclists in Windsor and Essex County.
---
The Share the Road Cycling Coalition is a provincial cycling advocacy organization working to build a bicycle-friendly Ontario. They work in partnership with municipal, provincial and federal governments, the business community, road safety organizations and other non-profits.
---
Canada Walks promotes the value of walking and walkability, provides tools to get people walking, and works with partners to help build Canada's walking movement
---
The Ontario Trails Council (OTC) is a charity that promotes the development, preservation, management, and use of recreational trails in Ontario. The website includes many resources for hiking, biking, and camping. It also includes  "find a trail" tool for any trail in Ontario that you may wish to learn about.
---
The Great Lakes Waterfront Trail
Stretching over 3000km, the Great Lakes Waterfront Trail is a route connecting 140 communities and First Nations along the Canadian shores of the Great Lakes region and is a signature project of the Waterfront Regeneration Trust. The trail consists of both on-road and off-road facilities. The route is primarily paved, with sections of unpaved path and gravel roads. Check out their web link to see where you can join onto the trail in your own community!
---
The Trans Canada Tail now consists of more than 24,000 kilometres of multi-use trails, linking Canada and Canadians. Whether you are looking for a place to hike, cycle, paddle, ride, cross-country ski, or snowmobile, you can find an experience that resonates with you. As the longest recreational trail in the world, The Trans Canada Trail offers a wide range of activities through a variety of landscapes – urban, rural, and wilderness, along greenways, waterways, and roadways.
Related Content:
Last modified:
Wednesday, April 5, 2023 - 2:32pm