The Environmental Health Department inspects public recreational water facilities such as pools, spas, spray/splash pads, and waterslides for compliance to Ontario Regulation 565: Public Pools.
The Health Unit also provides important training and information for owners and operators of recreational facilities.
---
Requesting an Inspection
Before opening or re-opening a recreational water facility (e.g. public pool, public spa, public wading pools, spray/splash pads, waterslides) after a closure of 4 weeks or more or after a renovation, you must notify the health unit and apply for an inspection at least 14 days PRIOR to re-opening.
Once the Health Unit receives your application, a Public Health Inspector will contact you to arrange for the inspection.
---
Pool and Spa Records (checklists)
---
Training and Education
Pool Operators Manual
Coming Soon!
Download our newly published Public Pool, Public Spa and Class C Facilities Operator's Manual that contains detailed information for pool owners and operators on the safe maintenance and care of a public recreational water facility.
A detailed, one-stop reference guide for all recreational water owners and operators.
Online Training
The Health Unit offers a free online training course for pool and spa operators that provides education about pool and spa maintenance, safety, and compliance with the Ontario Regulation 565: Public Pools.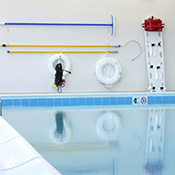 Pool Fouling Fact Sheets
The following fact sheet provides detailed instructions for operators of public recreational water facilities when there has been a pool fouling.
---
Short-Term Residential Swimming Pool Rentals by Private Homeowners
There are a number of apps and online marketplace platforms that allow residential pool owners ("hosts") to rent their pool by the hour to the public ("guests").  While there are many benefits to aquatic activities, it's important for pool owners to recognize that these environments can expose bathers to water borne diseases, drowning and injury associated with the design, maintenance and operation of the pool/facility.
Please review the Ministry of Health's guidance document "Short-Term Residential Swimming Pool Rentals by Private Homeowners"  to read about the roles, responsibilities, liabilities and risks involved with renting out a private residential pool to members of the general public.
Please note that the Health Unit does not conduct inspections of residential pools. The Health Unit only inspects Class A, B, or C recreational water facilities as defined in O.Reg 565: Public Pools.