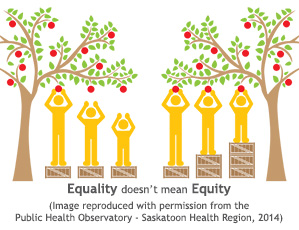 What Determines Health?
A person's health is not only affected by access to health care and personal lifestyle choices, but also by factors such as where they live and work, how much education they have, economic and political policies, and the environment. These factors and others are known as the social determinants of health. Many of these factors are shaped at an individual, neighbourhood, community, and societal level.
What is Health Equity?
Treating everyone equally doesn't mean that every person has the same opportunities to be healthy. The aim of health equity is to remove barriers and add more supports, so that all people can achieve good health. This picture shows how some members of our community need extra help to reach the same level of health as others.
Learn more about the social determinants of health and the idea of health equity by watching our video "Let's Start a Conversation About Health"
View the transcript for this video.
Our Commitment
Health equity is one of the Windsor-Essex County Health Unit's core values and is a guiding principle in our public health work. We are committed to working with community partners, agencies, coalitions, health care providers, local government, the public, and others in the effort to promote health equity in our community.
We work towards addressing the social determinants of health and for greater health equity in our community through our programs, services, and activities. We are committed to ensuring that every person in our community has the same access to opportunities that lead to a healthy life.
For more information, see the following materials:
2015 No Barriers Health Equity For All: Toolkit & Practical Guide for Health and Community Service Providers