The WECHU was proud to complete its final assessment and receive Baby Friendly Initiative (BFI) designation at the end of 2017.
The purpose of BFI is to protect, promote and support breastfeeding. It ensures pregnant families and families with infants have the information they need to make an informed decision on how to feed their infants.
The WECHU's External Assessment visit was held on November 21, 22, and 23, 2017. 
While the Healthy Families Department lead the journey, it took the entire health unit staff, management and board along with community partners working together to achieve Baby Friendly Designation.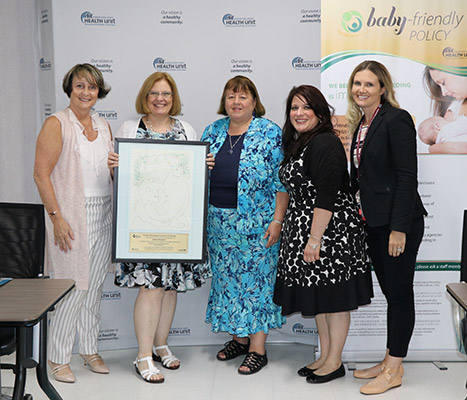 Receiving designation ends one leg of our journey and begins another. We will continue to promote exclusive breastfeeding for the first six months of a baby's life; provide breastfeeding supports and services; and collaborate with community partners to improve breastfeeding outcomes across Windsor-Essex.