Why is physical literacy important?
Physically literate children lead healthy active lives. This benefits them in a number of ways including:
Increased creativity, readiness for learning, and academic performance.
Improved concentration, memory, problem solving, and attention span.
Better behaviour, less bullying, and less violence.
Safer and healthier relationships.
Overall personal satisfaction.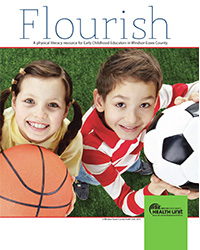 Request a copy of Flourish: A physical literacy resource for Early Childhood Educators.