Main Content Region
The Children Count Pilot Study Project
The Children Count Pilot Study Project
Main Page Content
Utilizing the school climate survey for coordinated health monitoring and planning for children and youth in Ontario.
Supporting student achievement and improving overall quality of life for children and youth is a priority shared across multiple sectors, including health and education.
In 2017, the Children Count Pilot Study Project Team set out to explore the feasibility of coordinated monitoring and assessment of child and youth health, utilizing the school climate survey, to address local health data gaps.
Six school board and public health unit pairings piloted the Healthy Living Module as part of the school board's school climate survey in the 2018/19 academic year. The Healthy Living Module included 17 questions on mental health, healthy eating, and physical activity.
While every school board and public health unit pairing took a different approach to implementing the Healthy Living Module to suit their needs, findings from the pilot study demonstrate that this model of data sharing is feasible, replicable in school boards with a variety of characteristics, and valuable for strengthening partnerships.
The specific challenges and lessons learned during this pilot study are captured in this report from the perspective of the pilot site organizations. In addition, The Children Count Healthy Living Module Toolkit was created to enable other school boards and public health units to adopt a similar collaborative partnership model.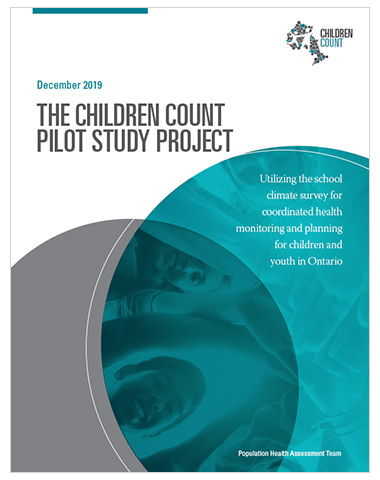 Read this report (Accessible PDF)
Related Content