KEY TALKING POINTS AND RESOURCES TO HELP YOU IN CONVERSATIONS WITH YOUR CLIENTS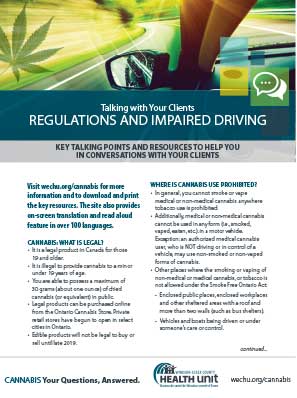 Download Print Version
CANNABIS: WHAT IS LEGAL?
It is a legal product in Canada for those 19 and older.
It is illegal to provide cannabis to a minor under 19 years of age.
You are able to possess a maximum of 30 grams (about one ounce) of dried cannabis (or equivalent) in public.
Legal products can be purchased online from the Ontario Cannabis Store. Private retail stores have begun to open in select cities in Ontario.
Edible products will not be legal to buy or sell until late 2019.
WHERE IS CANNABIS USE PROHIBITED?
In general, you cannot smoke or vape medical or non-medical cannabis anywhere tobacco use is prohibited.
Additionally, medical or non-medical cannabis cannot be used in any form (i.e., smoked, vaped, eaten, etc.) in a motor vehicle. Exception: an authorized medical cannabis user, who is NOT driving or in control of a vehicle, may use non-smoked or non-vaped forms of cannabis.
Other places where the smoking or vaping of non-medical or medical cannabis, or tobacco is not allowed under the Smoke Free Ontario Act:

Enclosed public places, enclosed workplaces and other sheltered areas with a roof and more than two walls (such as bus shelters).
Vehicles and boats being driven or under someone's care or control.
Indoor common areas in condominiums, apartment buildings and university/college residences.
Restaurant and bar patios and areas within nine metres of a patio.
Publicly-owned sporting areas, spectator areas, community rec centres, schools and school grounds, and public areas within 20 metres of those grounds.
Reserved seating areas of outdoor sports or entertainment venues. 
Schools and school grounds, and public areas within 20 metres of those grounds.
Children's playgrounds and public areas within 20 metres of playgrounds.
Child care centres, and places where an early years program is provided.
Places where home child care is provided, regardless of whether children are present.
Outdoor grounds of public hospitals, private hospitals, psychiatric facilities.
Municipal smoke free by-laws also prohibit smoking on municipally owned properties such as in parks, conservation areas, beaches and marinas.
THE EFFECTS OF CANNABIS ON DRIVING
Using cannabis impairs your driving ability because it:
slows reaction time,
makes it hard to focus and track moving objects,
reduces co-ordination, and
distorts perception of space.
You should wait at least 6 hours after using a cannabis product before driving.
CANNABIS-IMPAIRED DRIVING LAWS
Driving impaired by cannabis (non-medical or medical) is dangerous and illegal.
Cannabis cannot be accessible in a motor vehicle. It must be stored away from the driver and passengers (i.e., in the trunk, similar to rules about alcohol possession).
If you are caught driving impaired, you could face jail time, fines, and license suspension.
You cannot have ANY drugs or alcohol in your system (i.e., zero tolerance) if you are:

under 21,
have a G1, G2, M1 or M2 license, or
if you are a commercial driver
GETTING HELP WITH SUBSTANCE USE
Urgent help
Windsor-Essex Crisis Line: 519-973-4435 (24 hour/7 days a week) 
Kids Help Phone: 1-800-668-6868 www.kidshelpphone.ca (phone or online chat counselling, English and French)
If unintentional ingestion or bad reaction, call 911 or the Ontario Poison Centre: 1-800-268-9017
Find local treatment services
Visit a directory of helplines and local treatment services for mental health and addictions. Can download and print a Treatment Options Brochure from this page
Call Connex Ontario: 1-866-531-2600 www.connexontario.ca (24/7 support in 100+ languages)