Information for Employees and Employers
Information for Employees and Employers
What you need to know to help you and your family stay healthy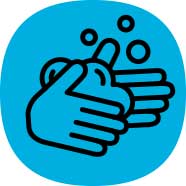 Wash your hands with soap and water thoroughly and often.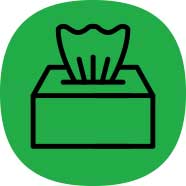 Cough and sneeze into your sleeve or a tissue. Dispose of tissue immediately and wash your hands.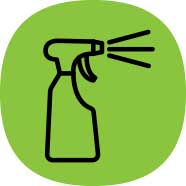 Keep surfaces clean and disinfected.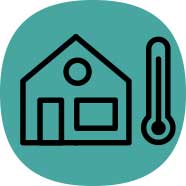 Stay home when you are sick.
Main Page Content
On this page
General Information
COVID-19 has drastically disrupted activities of daily living for the public, workplaces, and businesses. It is important for employers to ensure a safe working environment and protect the health and safety of their employees, while also supporting the needs of families, and the community as a whole.
It is essential to follow the recommendations set out by your local municipality and/or provincial authority regarding workplace/business closures to prevent the spread of COVID-19.
Check www.ontario.ca regarding updates to any changes to workplace legislation due to COVID-19.
---
Frequently Asked Questions
Environmental Cleaning in the Workplace
What products can be used to clean and disinfect the workplace to help prevent the spread of COVID-19?
Commonly used cleaners and disinfectants are part of a broad approach to prevent the spread of infectious diseases. The use of disinfectants with a Drug Identification Number (DIN) is recommended to limit the spread of COVID-19. A DIN is an 8-digit number located on the package/bottle of disinfectant and this indicates that it has been approved for use by Health Canada.
What is the difference between cleaning products and disinfectants?
Cleaning products remove dirt and some germs from surfaces or objects. Soaps and detergents are the most commonly used products for cleaning. Since cleaners do not kill all germs, it is important that a disinfectant be used after a thorough cleaning.
Disinfectants do not necessarily remove dirt from surfaces or objects but are ideal for frequently touched surfaces because they contain chemicals that kill the germs that are left behind. Disinfectants are most commonly found in liquid form and are most effective when applied after objects or surfaces have been cleaned. Disinfectant wipes contain both cleaners and disinfectants in one solution, but are not recommended for use on heavily soiled surfaces. Disinfectant wipes should be discarded after each use.
What surfaces or objects should be regularly cleaned and disinfected to reduce the spread of COVID-19?
Frequently touched surfaces are more likely to be contaminated so it is important to ensure thorough cleaning at least twice a day or when visibly dirty. Some common high-touch surfaces and objects include, but are not limited to:
Handles/door knobs
Railings/grab bars
Desk tops
Telephones/cell phones
Taps
Toilet handles
Kitchen appliances and surfaces
Water fountains
Manual hand sanitizer dispensers
Computers keyboards and mouse
Light switches
Cash registers
Touchpad surfaces
Elevator buttons
Restaurant tables and menus
What steps can my employees take to ensure their safety while cleaning and disinfecting the workplace?
Wherever possible, use a pre-mixed solution of cleaner and disinfectant
Ensure that you check the expiry date when using any cleaning or disinfectant products or mixtures
Wear gloves and any other personal protective equipment (PPE) as recommended by your workplace policies
Follow the manufacturer's instructions for preparing the solution and allow adequate contact time for disinfectant to kill germs
Refer to your workplace/organization for specific protocols for the cleaning and disinfection of COVID-19, if applicable.
---
Screening employees for COVID-19
If you suspect an employee may have COVID-19, what questions can you ask?
Without violating your employee's right to privacy, you may ask the following questions to protect the health and safety of the workplace:
Are you exhibiting any symptoms of the illness?
Have you come into close personal contact with anyone who is exhibiting any of the symptoms?
Have you travelled to an infected or prohibited area?
Have you been in close contact with anyone who has travelled to an infected area?
If your employee answered yes to any of these questions, ask that the employee self-isolate for at least 14 days and contact the Windsor-Essex County Health Unit if symptoms develop at 519-258-2146 ext. 1420.
What steps should be followed if an employee begins to exhibit COVID-19 related symptoms while at work?
The employee should immediately be separated from others and safely isolated in a separate room or area away from common areas.
If available, provide a mask to the affected individual to prevent the spread of virus through respiratory droplets.
Have a plan in place for how the affected worker can be safely transferred home without using public transit, if possible.
Tell the worker to self-isolate at home and call the Windsor-Essex County Health Unit (519-258- 2146 ext. 1420) or Telehealth (1-866-797-000) regarding next steps.
Keep communicating and promoting the message that employees should stay at home even if they have just mild symptoms consistent with COVID-19.
What should you do if an employee tells you that they came into contact with someone who has COVID-19?
Once the contact is confirmed, the employee should be asked to isolate themselves at home for at least 14 days. If symptoms develop, have them contact the Windsor-Essex County Health Unit at 519-258-2146 ext. 1420.
Any co-workers, clients, or vendors who may have come into close contact with the employee should also be notified. For co-workers coming in close proximity (i.e., within 1 metre) of the employee, as a precautionary measure, they should also be removed from the workplace for at least 14 days and self-monitor for signs and symptoms.
What should you do if an employee tests positive for COVID-19?
Contact your local Public Health Unit to receive advice and next steps. If you are in the Windsor and Essex County area, contact the Windsor-Essex County Health Unit at 519-258-2146 ext. 1420.
Following the discussion with the Health Unit, employers may be required to assist in identifying contacts the infected employee had in the workplace.
When communicating a possible case of COVID-19 in the workplace to your employees:
Ensure you are maintaining the affected employee's privacy and confidentiality - no names or other identifying details should be given.
For those that suspect that they may have been exposed, it is recommended that they self-monitor and/or self-isolate and contact the Windsor-Essex County Health Unit at 519-258-2146 ext. 1420.
What should employees do when returning to work after travel?
Employers with employees recently returning from travel should follow public health guidance and make the following considerations:
If you have an employee returning to work after travelling outside of Canada they should self-isolate and self-monitor any symptoms for 14 days before returning to work.
If it is possible that your employee has had contact or potential contact with a case of COVID-19, they should not go to work and should self-isolate for 14 days or until further notice. If symptoms develop, they should contact the Windsor-Essex County Health Unit at 519-258-2146 ext. 1420.
---
Government Supports and Recommendations for Ontario Workers and Employers
Workers who qualify for Employment Insurance (EI) sick leave benefits, and are in quarantine or who have been directed to self-isolate will receive sick leave benefits for the full 14-day period.
For workers not eligible for EI sick leave benefits, Ontario is exploring additional measures to provide income support.
Ontario Legislation for Job Protection
Ontario Government proposed legislation that would provide job protection to employees that are:
Under medical investigation, supervision, or treatment for COVID-19
In isolation or quarantine
Acting in accordance with public health information or direction
Required to provide care to a person for a reason related to COVID-19 i.e., a school or day-care closure
If passed, measures would be retroactive to January 25, 2020
Provincial Support for Workplaces Under Emergency Closure Order
On March 23rd, the province of Ontario issued an emergency order to close at-risk workplaces and encourage non-essential businesses to find ways to have their employees work from home.
If workplaces have any questions, they can call the Stop the Spread Business Information Line at 1-888-444-3659 (available Monday to Sunday, from 8:30 a.m. – 5:00 p.m.)
Internal Workplace Policies
Where possible, consider adjusting workplace policies and practices to promote social distancing between employees by introducing the following:
Eliminate the need for employees to acquire a doctor's note so that those who are experiencing symptoms can stay home
Increase the distance between employees to at least 2 metres, by moving desks or adding barriers where possible
Limit the number of clients or customers visiting the work space at any given time
Provide an option for flexible work arrangements (e.g., work from home)
Flexible work hours
Staggering start times for employees
Staggering lunch breaks to limit the number of people using the lunch room at any given time
If possible, spacing the chairs in the lunch room at least 2 metres apart
E-mail and teleconferencing instead of in-person meetings
Infection Prevention Control Policies
Workplace Environmental Cleaning Policies
How can I support the mental health of my employees at this time?
To support the psychological health and safety of your employees, the Canadian Mental Health Association (CMHA) recommends employers consider following 6 tips to respond to employee anxiety about COVID-19
Refer employees to your Employee Assistance Program for support
Refer employees to Family Services Windsor-Essex – they provide counselling and support services to help individuals, couples and families manage life's challenges in their daily lives. At this time, they are providing support by telephone and can be reached at (519) 966-5010.
---
Information for Seasonal Workers Living in Shared Living Accommodations
How can Migrant Farm Workers protect themselves from becoming sick?
Handwashing with soap and water or using an alcohol-based hand sanitizer especially after contact with a sick individual and before touching your face.
Avoid sneezing or coughing into hands or into the open air, instead use sleeves or tissues and dispose of used tissues immediately.
Avoid sharing household Items like dishes, drinking glasses, cups, eating utensils, towels, bedding or other personal items.
After use, these items should be washed with soap or detergent in warm water. No special soap is needed.
Do not share cigarettes or vaping products.
Allow only essential visitors into the home and keep the visits short. Maintain a social isolation distance of at least 2 metres as much as possible.
What is the best way to clean my home if I am a Migrant Farm Worker?
Clean using commercially purchased multi-surface household cleaners.
If using a disinfectant, only use those which have a Drug Identification Number (DIN). A DIN is an 8-digit number given by Health Canada that confirms it is approved for use in Canada. Gloves should be worn when handling cleaning and disinfecting products.
Check the expiry date of cleaning products before using them and always follow manufacturer's instructions.
Frequently touched surfaces are more likely to be contaminated. In addition to routine cleaning in your home, surfaces that have frequent contact with hands should be cleaned and disinfected twice per day and when visibly dirty.

Examples of frequently touched surfaces include doorknobs, elevator buttons, light switches, toilet handles, sink tap handles, bedside tables, counters, hand rails, touch screen surfaces, TV or radio remotes, and keypads.
What are the recommended measures to prevent the spread of infection at work?
Increase awareness both within and outside of your organization by sharing messaging from the following credible agencies:
Promote personal hygiene including regular and thorough handwashing by employees, contractors and customers.
Ensure there is access to handwashing facilities where soap and water are available, and that soap containers are regularly refilled.
Ensure tissues and alcohol-based hand sanitizer (minimum of 60% alcohol) are available in prominent locations throughout the workplace.
Improve workplace sanitation practices, especially on frequently touched surfaces which are more likely to be contaminated.
Non-essential workplace items (e.g., newspapers, magazines, stuffed toys) that are not easily cleaned should be removed from the workplace and public spaces.
Ensure thorough cleaning at least twice a day or when visibly dirty.
Commonly used cleaners and disinfectants are effective against COVID-19.
Resources
These resources may be printed, shared, and placed around the workplace to help reduce the risk of spread to employees and customers.
Related Content:
Last modified:
Saturday, March 28, 2020 - 4:05pm