Vaccine Information for Youth & Parents
Vaccine Information for Youth & Parents
Main Page Content
Those aged 12 (or turning 12 in 2021) and over are able to get the COVID-19 vaccine.
If you got your first dose at least 28 days ago, you are able to get your second dose.
Some vulnerable populations are eligible for a third dose. Learn more about third doses.
Walk-ins and appointments available. For more information on How to Get the Vaccine, visit www.WEVax.ca.
For more information about the vaccines in general, you can visit our Vaccines section.
To help ease vaccine-anxiety, it helps to know what to expect at a vaccine clinic. Check out this fact sheet to know what you need to bring to an appointment, and for a walk-through of what happens at the clinic.
---
Have you heard that the COVID-19 vaccine can change your DNA? Or that getting the vaccine can actually make you sick? There is a lot of misinformation out there. We have the facts for you!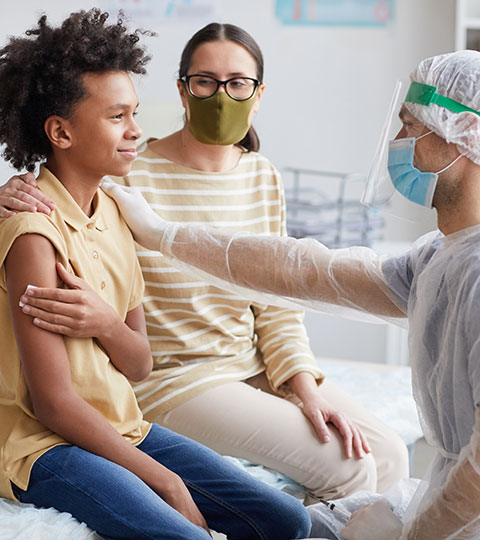 The COVID-19 Vaccine for Youth
Video Presentation
Check out this video if you have questions about the vaccine for youth.
We answer common questions and walk you through booking an appointment.
Virtual Conversation for Parents with Dr. Ahmed
Check out this video if you missed the virtual conversation for parents with the WECHU's former Medical Officer of Health Dr. Wajid Ahmed.
Dr. Ahmed answers questions that were submitted by Windsor-Essex parents about COVID-19 vaccines and youth vaccination.
---
It is recommended that a parent or guardian attend the vaccination appointment with anyone under 16 years of age.
The Facts:
COVID-19 Vaccines & Youth Aged 12 (or turning 12 in 2021)to 17 Years
Children who get sick with COVID-19 typically have mild symptoms. However, some children can get
very sick and need to go to the hospital.
Children can also get a serious medical condition called "Multisystem Inflammatory Syndrome".
Others can experience more serious, longer-lasting symptoms that can affect their health and well-being. In very rare cases, the virus can also cause death in children.
Like adults, children can transmit the virus to others if they are infected, even if they don't feel sick.
COVID-19 vaccines help build up immunity to the virus, so that your body will fight it off more easily. This can reduce the risk of getting sick from COVID-19 or make symptoms milder if you do get it.
You cannot get COVID-19 from the vaccine.
Currently, the Pfizer-BioNTech vaccine is the recommended COVID-19 vaccine for individuals 12 (or turning 12 in 2021) to 17. All vaccines for COVID-19 approved for use in Canada have been evaluated by Health Canada using rigorous standards. Health Canada will continue to monitor all vaccines to make sure they are safe and effective.

The effectiveness of the vaccine 14 days after the second dose is estimated to be over 90% for Pfizer-BioNTech.
It's important that you get both doses of the vaccine for long-term protection against COVID-19.
The Pfizer-BioNTech clinical trial studied 2,260 youth aged 12 to 15 years old in the United States. In the trial, there were 18 cases of COVID-19 in the group that did not get the vaccine (the "placebo" group) compared to zero cases in the vaccinated group. Based on these results, the vaccine was calculated to be 100% effective in the trial.
COVID-19 vaccines are only provided if informed consent is received from the person to be vaccinated. This applies to those aged 12 to 17, and as long as you have the capacity to make this decision. This means that you understand:
what vaccination involves,
why it is being recommended; and
the risks and benefits of accepting or refusing to be vaccinated.
Even if you are able to provide informed consent, it would be a good idea to talk about this decision with your parent/guardian or an adult you trust such as your principal or a teacher. If you are not able to consent to receiving the vaccine, you require consent from your substitute decision-maker, such as your parent or legal guardian. For more information about COVID-19 vaccines visit www.wevax.ca
Additional COVID-19 Vaccine Resources
for Youth & Parents
Ontario Resources
Canadian Resources
International Resources
Related Content:
Last modified:
Wednesday, October 13, 2021 - 4:04pm