Information for Shelters and Long-term Care Homes
Information for Shelters and Long-term Care Homes
What you need to know to help you and your family stay healthy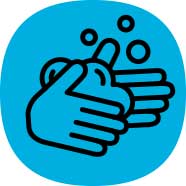 Wash your hands with soap and water thoroughly and often.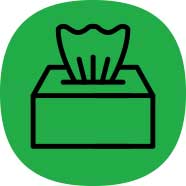 Cough and sneeze into your sleeve or a tissue. Dispose of tissue immediately and wash your hands.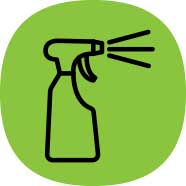 Keep surfaces clean and disinfected.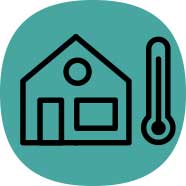 Stay home when you are sick.
Main Page Content
Long-Term Care and Retirement Homes
Long-term care facilities are regularly monitored and supported by Public Health Inspectors. Outbreaks are managed through mandated outbreak management protocols under the guidance of the Ministry of Health. For a list of current outbreaks, please visit the WECHU Outbreak Information Page or for Outbreaks related to COVID-19 only visit here.
To protect the health of residents in these types of facilities, staff are ONLY to allow entry to essential visitors (to residents who are very ill or require end-of-life care) and conduct active screening on these visitors for symptoms and travel history until further notice. Entry should be denied if visitors fail the screening. Please refer to the COVID-19 Guidance document for Long-Term Care (Version 4 – April 15, 2020) from the Ministry of Health.
Directives
Directives have been issued by Ontario's Chief Medical Officer of Health for Long-Term Care and Retirement Homes.
These directives provide detailed information on the following:
Active screening
Admission and re-admission
Repatriation
Short-stay absences
PPE
Essential visitors
Work locations
Staff and resident co-horting
Outbreak guidance
Case management
COVID-19 Testing
Communications
Food and product deliveries
Mask Use in Long-Term Care Homes and Retirement Homes
Long-term care homes and retirement homes are directed by the Ministry to ensure that all staff wear surgical/procedure masks at all times. This is a requirement for all homes regardless of outbreak status.
For full guidance on mask use requirements for long-term care and retirement homes review the Ministry of Health Guidance Document dated April 15th, 2020.
COVID-19 Testing
As the COVID-19 outbreak continues to evolve and laboratory testing capacity has increased, Ontario's provincial testing guidance is also being updated. Please review the COVID-19 Provincial Testing Guidance Update, April 15, 2020 for information on testing in Long-Term Care and Retirement Homes.
Screening in Long-term Care and Retirement Homes (LTCH)
LTCHs must conduct active screening (when possible, over-the-phone screening) for ALL resident admissions, returning residents, readmissions, staff and anyone else entering the home for COVID-19. First responders reporting an emergency do not need to be screened and are permitted to enter. Screening must be done twice daily at entry and exit (beginning of shift and end). Hospitals have been asked to temporarily stop transfers to long-term care and retirement homes.
Active Screening of Staff and Essential Visitors:
Screening must be done twice daily and include symptom check and temperature reading. The Ministry of Health released a new screening tool for Long-Term Care Homes and Retirement Homes April 24th. The questions included in the tool are minimum expectations for screening.
Essential visitors who fail the screening will not be permitted to enter. Advise them to contact their health care provider, Telehealth Ontario, or visit wechu.org/coronavirus [2] for more information. Staff who fail the screening process should be sent to the assessment centre for testing and public health should be notified.
Consider the following when implementing an active screening process:
Determine the entrance where a table and a staff member(s) will set up a screening station for all incoming individuals
Provide a script for screening that includes a process for handling visitors or staff who fail the screening
Post up signage [3] to alert all patients, staff, residents, and visitors of the active screening process
Ensure that alcohol-based hand rub (ABHR) with 70 – 90% alcohol, facial tissues, and procedure masks are available at the active screening desk
State clear rules at the entrance to allow or prohibit entry
Provide a handout to visitors explaining the changes
All LTCHs should instruct staff to continuously self-monitor [4] for symptoms of COVID-19. All LTCH staff should be aware of the early signs and symptoms of acute respiratory infection (such as fever, cough, shortness of breath). If a staff member is required to self-isolate they must NOT come to work and must report their symptoms to the LTCH
Daily Health Monitoring of Residents
Long-Term care homes must conduct active screening of all residents, at minimum twice daily (at the beginning and end of day). If any resident has typical or atypical symptoms of COVID-19. This regular check must include temperature checks.
Immediately isolate any residents with respiratory illness or fever.
Ensure that staff Personal Protective Equipment (PPE) is available near the point of care for all residents and that staff do not have to walk far to access it.

PPE includes disposable gowns, gloves, procedural masks and eye protection.
Garbage bins and ABHR should be available immediately outside the room.

If needed, signage for additional precautions should be posted immediately outside the room.
All symptomatic residents must be tested for COVID-19
New admissions and re-admissions:
Screen all newly admitted residents for symptoms and potential exposures to COVID-19 by asking them the following questions:
Do you have a fever, new or existing cough, or difficulty breathing?
Have you travelled outside Canada in the last 14 days?
Have you been in close contact with someone who has been tested positive or awaiting results for COVID-19?
Have you been in close contact with a person with acute respiratory illness who has travelled outside Canada in the last 14 days?
Take temperature reading (if 37.8 degrees Celsius or more fail test)
If residents answer yes to any of the above questions, isolate immediately and use droplet precautions, test for COVID-19. Currently hospitals are asked not to transfer to long-term care facilities, however in the event this is required transfers from hospital will be tested for COVID-19.
Shelters, Group Homes & Co-Living Settings
Persons experiencing homelessness, those with underlying medical conditions and those living in congregate settings may be at heightened risk for infection during the COVID-19 -pandemic. This information is intended for staff and volunteers who work in these settings to support response planning and the prevention and management of COVID-19 in their environments. The following information is based on the guidance and recommendations provided by the Ministry of Health.
Screening and monitoring clients/residents
Post signage on the entry door and throughout the residence to prompt anyone to self-identify to staff if they feel unwell or screen positive for COVID-19 symptoms.
Staff should keep a log of residents and include names and times of entry/exit.
Those that are conducting screening should do so at the main entrance (all other entrances should be restricted) and maintain a physical distance of 2-metres – consider placing markings on the floor indicating how individuals are expected to distance themselves
Anyone exhibiting signs of illness (e.g., coughing, sneezing) or indicate that they are not feeling well should be given a surgical/procedure mask and be required to put it on.
All staff, volunteers and returning residents/clients must be actively screened upon entry for COVID-19 and/or respiratory illness using the COVID-19 Self-Assessment Screening Tool, and monitored for COVID-19 symptoms daily.
If the individual being screened answers 'no' to all questions, they have passed the screening and can enter the building. They should be reminded of hygiene and distancing requirements.
If the individual answers 'yes' to any of the screening questions or refuses to answer, they have failed the screening. Give the individual a surgical/procedure mask if they have symptoms and hand sanitizer.

If it is a staff member or volunteer, let them know they cannot enter and should go home, self-isolate and contact their healthcare provider, the WECHU (519-258-2146 ext. 1420), or Telehealth.
If it is a resident, immediately isolate the individual into a separate room that has been predetermined and is used solely for that purpose, and call the WECHU (519-258-2146 ext. 1420) to arrange for testing.
Failed Screening/ Positive Test for COVID-19:
If a resident/client fails the screening procedure and/or tests positive for COVID-19 and will be required to self-isolate, there should be a designated room that has been predetermined and is used solely for that purpose. Ensure the room at the following amenities:
A door that can be closed
Access to a private bathroom for the unwell resident to use. If this is not available, develop a schedule for the shared bathroom, ensuring the unwell person uses it last, and it is followed by thorough cleaning and disinfection.
If a private room for isolation is unavailable, and the room will need to be shared by both well and unwell individuals, ensure:

There is good airflow in the room (open windows if the weather permits)
Residents are kept 2-metres away from each other
Unwell person should wear a mask
Individuals should be provided with hand sanitizer

If a room must be shared by more than one unwell individual with confirmed COVID-19, these individuals do not need to wear a mask.
Avoid housing people with underlying conditions in the same room as people with symptoms.
Individuals in isolation should be provided a boxed meal so they can eat in the room they are isolated to.
Provide these individuals with a plastic lined garbage, hand sanitizer and tissues at their bed/beside them to cover coughs, easily clean hands and dispose of materials.
Symptoms should be monitored several times per day.
If the residents' symptoms get worse (e.g., severe difficulty breathing, severe chest pain, confusion, loss of consciousness), call 911. Inform EMS of symptoms.
All staff, volunteers, residents and shelter guests should follow routine infection prevention and control practices to prevent and control the spread of germs.
Engage in regular and frequent hand hygiene practices:

Hands should be washed with soap and water or hand sanitizer (with a concentration between 70% & 90%) for 15-20 seconds.
It is recommended to use disposable paper towels when drying hands.
Group homes and shelters should post hand-washing posters in visible locations around the setting (e.g., washrooms, kitchen, above sinks and near hand sanitizer dispensers).
If wall-mounted hand sanitizers are not possible, consider providing portable hand sanitizers to staff, residents, and clients.

Engage in proper respiratory etiquette:

Everyone should cover their nose/ mouth with a tissue, or into the bend of the arm when coughing and sneezing (do not sneeze or cough into hands). Any used tissues should be disposed of in the garbage, and hands should be washed immediately after.
Post Proper Cough & Sneeze Practice Poster in visible locations around the setting and staff/volunteers should frequently remind residents about good respiratory etiquette.
Staff/volunteers should ensure that cleaning and disinfection in the facility is performed on a routine and consistent basis. Special attention should be paid to high-touch surfaces (e.g., doorknobs, light switches), common areas (e.g., dining rooms, bathrooms) and shared equipment (e.g., telephone, keyboards).

Practice physical distancing (maintaining at least 2 metres of distance) to limit the number of people that individuals come into close contact with.  

Consider re-arranging furniture to assist with promoting physical distancing.
Educate residents and staff/volunteers to maintain a 2 metre distance from each other.
Create visual cues, such as tape on the floor to remind individuals about maintaining their distance.

Avoid Sharing of Personal/ Household Items:

Residents should not share personal items with others (e.g., food, drinks, personal hygienic items).
Where possible, personal items should be kept separately for each resident.
Clean all items that may be used by multiple people between uses (e.g., toys, telephone, computer).

Follow proper cleaning and disinfection protocol

Public Health Ontario Resource on Cleaning and Disinfection for Public Settings
Resources
Long-Term Care Homes
COVID-19 Preparedness and Long-Term Care Homes Presentation
The following is a FREE presentation offered for long-term care homes pertaining to outbreak management and infection control practices, in light of COVID-19.
Please note that the information in this presentation is current as of March 27, 2020. For the most up-to-date Ministry guidance documents and directives, please review the Restrictions & Guidance page.
You can also watch this video on Youtube 
Guidance Documents and Resources
Shelters/Group Homes/Co-living Settings
COVID-19 Guidance for Homeless Shelters Presentation
The following is a FREE presentation offered for staff and volunteers at homeless shelters that provides education about infection control practices and best practices to reduce the risk of COVID-19.
You can also watch this video on Youtube 
COVID-19 Guidance for Group Homes/Co-living Settings
The following is a FREE presentation offered for staff and volunteers at group homes/co-living settings that provides education about infection control practices and best practices to reduce the risk of COVID-19.
You can also watch this video on Youtube 
Guidance Documents:
Related Content:
Last modified:
Thursday, June 4, 2020 - 3:46pm