October 2020 Communications Recap
SUBMITTED BY:
Communications Department
DATE:
November 9, 2020
SUBJECT:
October Communications Recap
---
October Metrics
SOURCE

SEPTEMBER

OCTOBER

DIFFERENCE

News Releases Issued

0

3

+3

Media Advisories Issued

6

1

-5

Media Statements or Notifications

21

35

+14

Media Requests Received 1

46

47

+1

AM 800 Morning Segments 2

12

12

0

YouTube Live Media Briefing Videos3

22

16

-5

Wechu.org/cv/local-updates visits 4

201,598

166,394

-35,204

YouTube Channel Subscribers

620

669

+49

Email Subscribers 5

1,400

1,400

0

Emails Distributed

38

39

+1

SOCIAL MEDIA6

Facebook Fans

15,639

15,753

+114

Facebook Posts

123

115

-8

Twitter Follower

4,613

4,728

+115

Twitter Posts

114

105

-9

Instagram Followers

778

803

+25

Instagram Posts

10

18

+8

LinkedIn Followers

663

682

+19

LinkedIn Posts

76

73

-3

Media Exposure7
844
661
-183
Media Exposure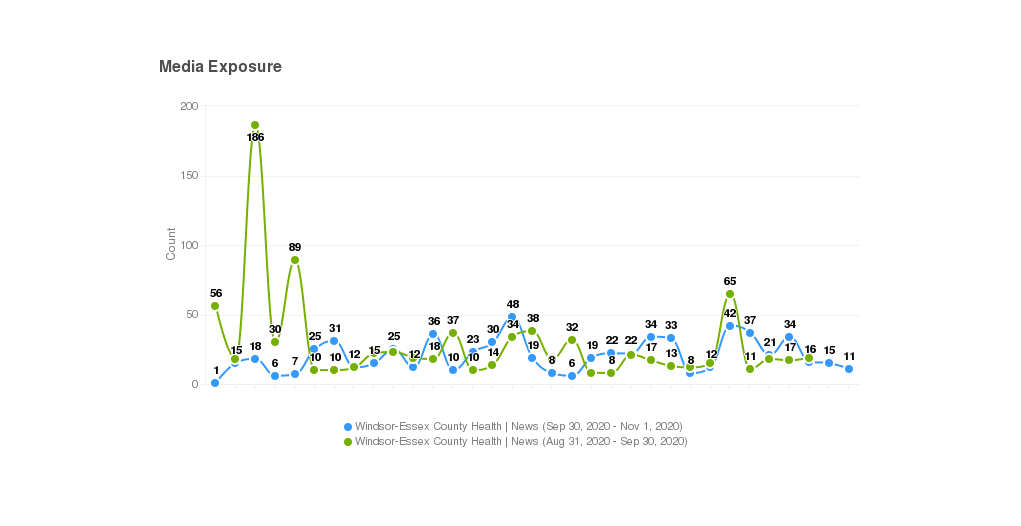 Trending Themes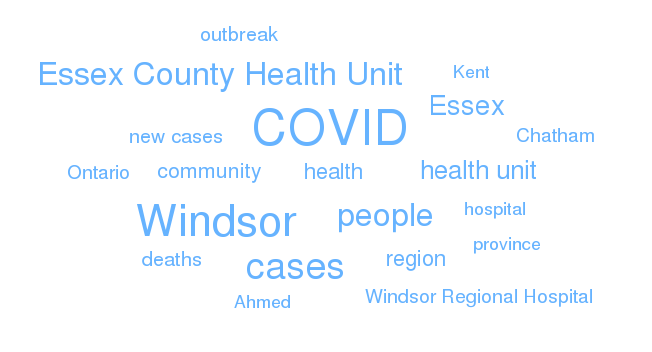 Top Sources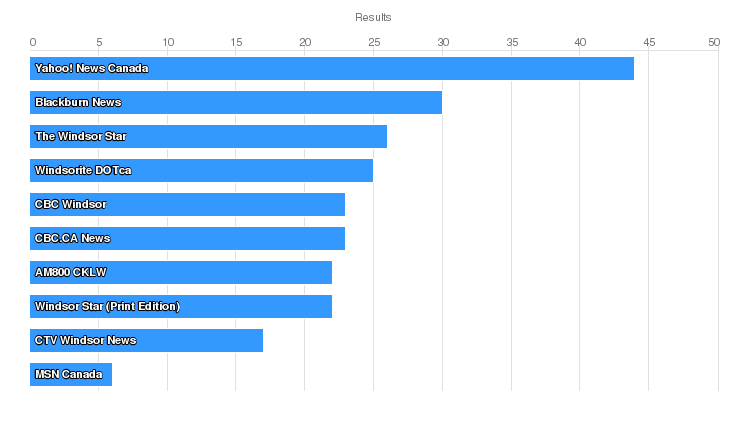 Media Participating in Teleconference for YouTube Live
AM 800 CKLW, Blackburn News, CBC Windsor, and The Windsor Star join every Monday, Wednesday, and Friday. On occasion, CTV Windsor and windsoriteDOTca will also join the briefing.
Current Notable Projects
 Microsoft Power BI was implemented on the COVID-19 Local Data webpage led by the Epidemiology and Evaluation department. Continuous Improvements occur to the webpage.
We helped launch the COVID-19 Monitoring Indicators for Windsor-Essex to align with the province's Framework for Reopening our Province. The 3 colour system is used to help residents know the current local pandemic status.
Radon – Know Your Level messages are being promoted on social media throughout the month of November.
We are working on a local flu shot campaign to complement the provincial roll out of their upcoming campaign.
Data Notes:
Most requests are related to the local COVID-19 pandemic.
Media requests received is a compiled list of documented requests we captured for interviews, data clarification, or general request for information from the media. Given the volume of requests during COVID-19, many exchanges with the media through text messages or quick phone calls to correct errors may not be captured. In many instances, each request led to multiple interactions with reporters.
Dr. Ahmed joined Mike and Lisa on the AM 800 Morning Drive every morning at 8:06 a.m. starting on Wednesday, March 17. On August 17, we went to a Monday, Wednesday, and Friday schedule with holidays off. He continues to do join Mike and Lisa every other morning to keep the community informed.
We changed the platform we broadcasted live videos from Facebook to YouTube at the end of June. YouTube Live videos started on June 23, 2020. Prior Public Health Update videos on YouTube were exported videos recorded through Facebook Live.
Website analytics are provided by Siteimprove. The metric provided is for page views to COVID-19 Local Updates Page. During the COVID-19 pandemic, changes were made to landing pages. For consistency in reporting, the most popular page was selected.
Email subscribers are those individuals who signed up to receive promotional emails from the Windsor-Essex County Health Unit. The analytics are provided through Mailchimp.
Social media metrics are provided through Hootsuite.
Graphs and media exposure information in this report were generated using Meltwater Media Monitoring Solution. Significant changes in numbers can be partially attributed to configuration changes made to the new service to better monitor and report media activity. News stories may be duplicates or missing as the platform is currently being optimized to better track Windsor-Essex County Health Unit mentions in the media landscape.