Information for Childcare Centre Administrators
Information for Childcare Centre Administrators
Main Page Content
The information contained on this site is applicable for administrators of:
Licensed child care centres
Licensed home child care providers
Before and After School Programs
EarlyON Child and Family Centres
To support the safe operation of child care centres, before and after school programs, and EarlyON Child and Family centres, many requirements must be followed, including (but not limited to) having a plan in place to ensure the safety of children, staff and parents.
Plans should consider procedures for managing illnesses in the setting as well as handling outbreaks.
COVID-19 Guidance for Administrators
Our COVID-19 Guidelines for Child Care Centres, Before and After School Programs, and EarlyON Programs in Windsor and Essex County contains key information to help you stop the spread of COVID-19.
It includes protocols for managing symptomatic individuals and confirmed cases, frequently asked questions on a variety of topics, and detailed guidance on cleaning and disinfecting procedures.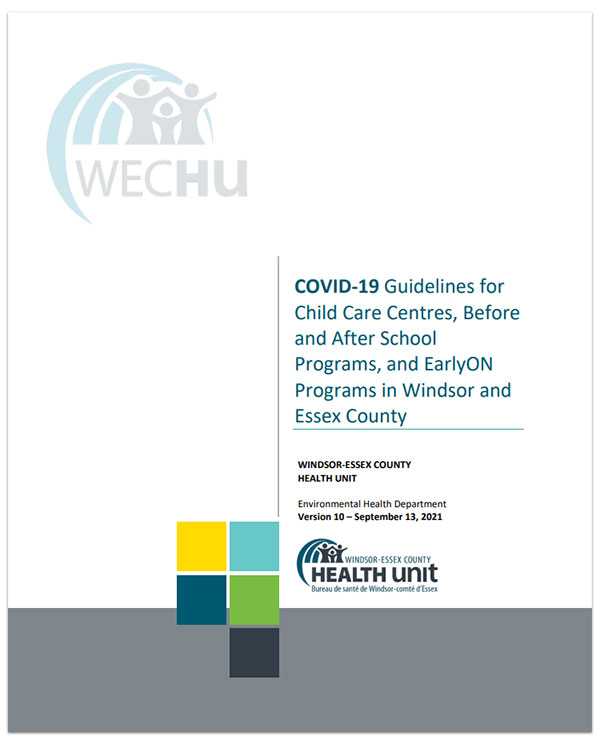 ---
Additional Resources
Did you miss our COVID-19 information webinar for Childcare Centre Administrators?
Join our public health inspectors and public health nurse as they discuss:
COVID-19 safety guidance in childcare centres
Requirements for managing COVID-19 in your setting
Resources to support students and families
Related Content:
Last modified:
Wednesday, September 15, 2021 - 9:56am