Child care operators and staff play an important role in caring for children and helping them grow and develop in the safest and most sanitary environment possible.
Even though centres work very hard to create safe environments that minimize the spread of infectious disease, germs can spread quickly between children.
---
Infection Prevention and Control (IPAC) and Outbreak Management in Child Care Centres
For detailed guidance on best practices related to infection prevention and control (IPAC) as well as managing outbreaks, WECHU has created a comprehensive resource for child care owners/operators and staff.
The following topics are included:
IPAC Practices, Policies and Procedures
Management of Outbreaks
Chemical Disinfectant Use and Concentrations
Immunization
Guidelines for Common Communicable Diseases
Key Resources and Definitions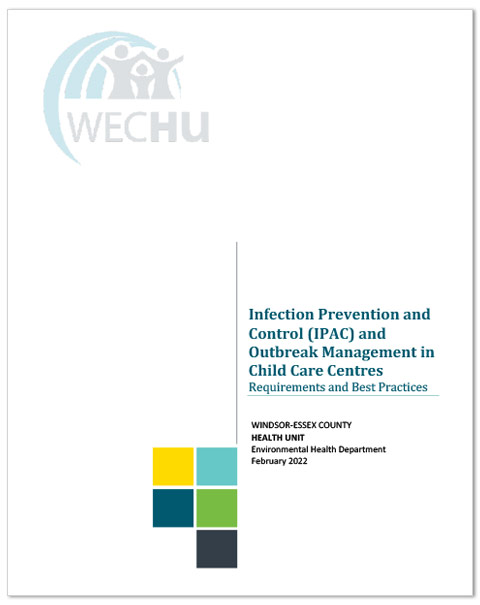 ---
Webinar:   
Infection Prevention and Control (IPAC) and Outbreak Management for Child Care Providers
This webinar was delivered to child care owners/operators and staff to provide education about new changes to IPAC and outbreak management processes. The presentation was 70 minutes in duration, with a 20 minute question and answer period that followed.
---
The Role of Public Health
Under the Ontario Health Protection and Promotion Act, the Windsor Essex County Health Unit works with licensed child care centres in a variety of ways to minimize the spread of illness, ensure infection prevention and control best practices are being followed and food being served to children is handled safely. This is accomplished by:
Inspecting licensed child care centres on a regular basis to evaluate practices such as hand hygiene, cleaning and disinfection, appropriate diapering and toileting and safe food handling.
Investigating complaints related to infection control practices at licensed, un-licensed and home based child care providers.
Providing educational resources and learning opportunities for child care staff on how to prevent the spread of diseases and infections.
Investigating and supporting child care centres during outbreaks.
Providing education to parents on the best ways to protect their children and others from getting sick.
To speak with a Public Health inspector, please call 519-258-2146 ext. 4475.
To file a complaint related to infection control practices or food safety at a licensed, unlicensed, or home based child care centre, please fill out this form.
---
Nutrition Support for Child Care Centres
As child care providers, you play an important role in helping children learn to love eating well. Early experiences with food shape children's lifelong preferences and eating behaviours. Exposure to a variety of wholesome foods in a positive and structured environment will help children nourish their bodies, develop a healthy relationship with food, and be better prepared for learning.
The Ontario Dietitians in Public Health (ODPH) have also published provincial child care nutrition resources to supplement Ministry recommendations, including a Practical Guide and Self-Assessment Tool. The Practical Guide includes recommendations on menu planning, healthy food and beverage choices, and supporting a healthy eating environment. The Self-Assessment Tool complements the Practical Guide and will help child care providers assess their menus to ensure compliance with the Child Care and Early Years Act, 2014 (section 42 of Ont. Reg. 137/15). These resources are available in both English and French.
This website also includes a new nutrition toolkit for child care providers, called Paint Your Plate with Vegetables and Fruit. The goal of this toolkit is to expose young children to a variety of vegetables and fruit in child care settings. The toolkit aligns with How Does Learning Happen? Ontario's Pedagogy for the Early Years (2014) and offers menu planning tips, in addition to curriculum resources.
The Heath Unit offers menu consultation to local childcare providers free-of-charge. For more information, contact our Healthy Families Hotline to be transferred to our Registered Dietitian. Healthy Families Hotline: 519-258-2146 ext. 1350.