What is the Nutritious Food Basket?
The Nutritious Food Basket (NFB) is a tool used to track the cost of healthy eating in Windsor and Essex County.
How is the cost of the Nutritious Food Basket collected?
This data is collected yearly by every health unit in Ontario. A standard list of 67 food items is priced at nine grocery stores in Windsor and Essex County. Food items in the NFB are selected to reflect an eating pattern that meets the recommendations of Canada's Food Guide. The NFB does not include items such as spices, sauces, condiments, processed and ready-to-eat foods, baby food and formula, personal hygiene, and cleaning products.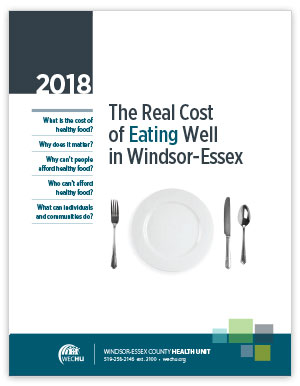 What can the Nutritious Food Basket data be used for?
The Nutritious Food Basket data can be used:
To document annual food cost trends in Windsor-Essex County.
By the Health Unit and community partners to find solutions and to advocate for all Windsor-Essex County residents to have access to enough affordable, personally acceptable, healthy food for themselves and their families.
NFB Cost Progression Chart
The following table shows the cost of a Nutritious Food Basket for a family of four* in Windsor-Essex County, per week, over the past five years.

| Cost of NFB in WEC | 2014 | 2015 | 2016 | 2017 | 2018 |
| --- | --- | --- | --- | --- | --- |
| Cost of healthy eating in WEC | $188.04 | $200.07 | $203.03 | $196.28 | $194.04 |
| Change from previous year ($) | $8.50 | $12.03 | $3.04 | -$6.75 | $-2.24 |
| Change from previous year (%) | 4.7% | 6.4% | 1.52% | -3.3% | -1.1% |
*a family of four = a man and woman each aged 31 to 50 years; a boy, 14 to 18 years of age; and a girl, four to eight years old.
Why does the cost of food matter?
Social assistance rates and minimum wage are not increasing at the same rate as food costs.  We know that when money is tight, people are forced to cut into their food budget to pay for other living expenses.  Often this means skipping meals or filling up on non-nutritious foods that cost less, which can lead to consuming fewer vegetables, fruit, and milk.  The result of this unhealthy diet over time is and increased risk of chronic illness, and poor growth and development in children.
Why can't people afford healthy food?
For people living on minimum wage, Ontario Works, or the Ontario Disability Support Program (ODSP), it can be hard to make ends meet.  After paying rent, they still have to pay for other necessities such as:
Heat and hydro
Transportation, car maintenance, and gas
Child care
Phone
Clothing
Eye and dental care
Home maintenance
Household cleaners and personal hygiene products
Often rent accounts for over 30% of the total income these individuals and families receive. Housing that is more than 30% of the income is considered unaffordable housing.  This means that little money is left for buying nutritious food.  Too often, it's so little that people go hungry.
What can we do?
All people in Windsor-Essex should have access to a nutritious, adequate diet. And each of us has a role to play to ensure it.  Start by educating yourself about what causes hunger and poverty, then get involved.
To become involved: 
Share your gardening skills or donate growing space to local groups, like the Windsor-Essex Community Garden Network. To find out more, contact wegardencollective@gmail.com.
Donate time, food, or money to support our local emergency food programs (i.e., food banks, meal programs).
Think about where your food comes from and buy local products more often. 
Advocate for:
Improved social assistance and minimum wage
A change in living wage policies
More affordable housing policies
Accessible and affordable child care
To learn more about poverty-reduction strategies that could improve access to healthy food for all Canadians, visit dignityforall.ca.  You can also sign on to Dignity for All's national campaigns to end poverty.
If you, or someone you know, are having difficulties accessing food, go to www.211ontario.ca or call 211 to find a local emergency food program that can help.