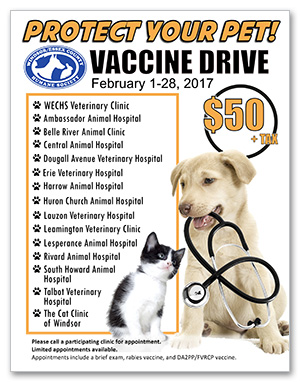 Protect your pet, protect your family! During the month of February, many local veterinary clinics will be participating in a reduced-cost vaccine drive to help residents vaccinate their pets. Appointments will include a brief exam, Rabies Vaccine and DA2PP/ FVRCP Vaccine for $50 + tax. Vaccinating your pet against Rabies is an important way to help prevent the spread of rabies to people.
Please call the participating clinic for an appointment as limited appointments are available.
See the list of participating clinics with contact information below.
For more information visit the Windsor-Essex County Humane Society's website, or view the event poster.
Location:
Ambassador Animal Hospital
1345 Tecumseh Road W, Windsor, ON N9B 1T5
519-971-3100
Belle River Animal Clinic
576 Broadway St, Belle River, ON N0R 1A0
519-728-3221
Central Animal Hospital
2315 Central Ave, Windsor ON,N8W4J1
519-944-7727
Dougall Avenue Veterinary Hospital and Huron Church Animal Hospital
3020 Dougall Ave, Unit 13, Windsor, ON N9B 3W4
519-969-3020
Erie Veterinary Hospital
102 Talbot St. West, Leamington, ON
519-322-2223
Harrow Animal Hospital
110 King Street W. Harrow, ON NOR 1GO
226-207-0222
Lauzon Veterinary Hospital
1315 Lauzon Road, Windsor Ontario N8S 3N1
519-948-7727
Leamington Veterinary Clinic
110 Talbot Street, Leamington
519-326-8343
Lesperance Animal Hospital
1046 Lesperance Road, Tecumseh, ON   N8N 1W8
519-739-0222
Rivard Animal Hospital
5635 Tecumseh Rd E, Windsor ON
519-974-7387
South Howard Animal Clinic
7250 Howard Ave, Oldcastle, N0R 1L0
519-734-1244
Talbot Veterinary Hospital
48 Talbot St S, Essex, ON N8M 1A9
519-776-7797
The Cat Clinic of Windsor
1277 Grand Marais Rd. W, Windsor, ON N9E 1E1
519-250-7700
**This is a Cat only facility.
Windsor/Essex County Humane Society Veterinary Clinic
1375 Provincial Road, Windsor, ON, N8W 5V8
519-966-1118