Take Charge
Take Charge
Main Page Content

Take Charge is a local program that encourages and supports Windsor-Essex County residents to eat healthy whether at work, at school, in daycares, or out in the community. The Take Charge program is helping our community to provide better access to nutrition education, and healthy food and beverage options. Ask about the Take Charge program at your workplace, school, daycare, or recreational facility. Contact the Health Unit for more information on Take Charge.
Get involved and help make the healthy choice the easy choice in your community.
Find Take Charge in your community:
Take Charge of your health!
When it comes to healthy eating, trying to change too many things at once can be overwhelming. Instead, it's better to focus on making small changes and stick with them.
A great way to start is to make sure you stay hydrated during the day. Water has many roles in our bodies and it is essential to our health.
---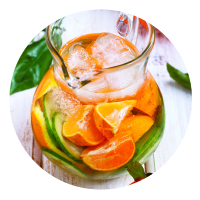 Flavoured Water Recipes
Did you know?
Water is the natural choice to stay healthy and hydrated!
Make sure you choose water every time; it has no calories, sugar, additives, or preservatives. And best of all, it's cheap and easy to get.
Try these delicious and healthy ways to flavour your water naturally and without any added sugars.
Related Content: