Sun Safety in the Winter
Sun Safety in the Winter
Main Page Content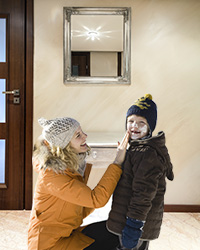 Ultraviolet Radiation (UVR) in the Winter
Protecting yourself from the sun's harmful rays does not stop after the summer months are over. UVR can damage your eyes all year long and all through the day so make sure you wear appropriate eye protection. The skin needs protection when the UV Index is 3 or greater from late spring to early fall and at times during the winter.  
In the winter there are times when the sunlight can reflect off of many surfaces such as snow, sand, asphalt, and water which can make the rays more intense. These reflections can almost double your exposure to UVR. UVR is also stronger when you are at a higher altitude as when skiing on the slopes. When you are enjoying time outdoors, make sure you cover up with a hat and clothing, wear sunglasses, goggles, or eyeglasses with UV protective lenses, and apply sunscreen that has a sun protection factor of at least 30 and is labelled 'broad spectrum' and 'water resistant' to all exposed areas of skin.
Southern Winter Vacation
Also make sure you protect your skin and eyes if you go south for a winter vacation. Check your daily local UV index rating so that you know how best to protect yourself. Remember when the UV Index is 3 or higher it is important to protect your skin and protect your eyes all the time and all year round. When outside and seeing new sites try to plan being outdoors when the rays are not at a peak level for the day. You should always avoid getting a suntan, or sunburn.  Pre-tanning is not a recommended way of protecting your skin from the harmful effects of UVR.
Time spent in the sun can cause skin damage (e.g. wrinkling, aging), skin cancer and causes harm to the eyes. Do your part to be protected and practice sun safety.
Related Content:
Last modified:
Thursday, December 17, 2020 - 9:29am