Main Content Region
Sexually Transmitted and Blood-Borne Infections in Windsor and Essex County Report
Sexually Transmitted and Blood-Borne Infections in Windsor and Essex County Report
Main Page Content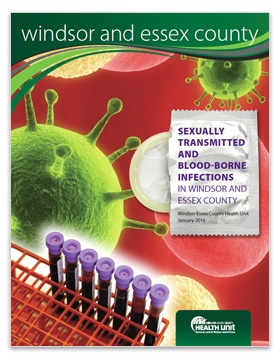 The 2016 Sexually Transmitted and Blood-Borne Infections in Windsor and Essex County report, as prepared by the Windsor-Essex County Health Unit, provides insight into the burden of reportable sexually transmitted and blood-borne infections (STBBIs) in Windsor-Essex County during the previous ten year period of 2005 to 2014. The key findings of this report are described below:
There is an average of 982 STBBIs reported annually in Windsor-Essex County and the annual number of STBBIs has increased by 27% since 2005.
The top 3 most common STBBIs are chlamydia, hepatitis C, and gonorrhoea which account for 95% of all STBBI cases in Windsor-Essex County.
Adolescents and young adults (those aged 15-29 years old) accounted for 72% of all STBBIs and were over 10-times more likely to have an STBBI than the rest of the Windsor-Essex County population.
Chlamydial infections are the most common reportable disease (accounting for 73% of all STBBIs) in Windsor-Essex County; there is an average of 720 chlamydial infections annually in the region and the number of cases has increased by 48% since 2005.
While the rate of gonorrhoea is steadily increasing in Ontario, it has decreased in Windsor-Essex County by 45%. However, gonorrhoea is still a leading cause of STBBIs and there is an average of 70 cases reported annually in the region.
In Windsor-Essex County, the rate of hepatitis C infections is increased by 15% and it is greater than the Ontario rate. There are, on average, 140 cases per year in the region, mostly in individuals over 30 years old.
Males and individuals who have sex with the same sex were disproportionately affected by HIV in Windsor-Essex County. However, the rate of HIV in the region has decreased slightly and is lower than the Ontario rate.
Although syphilis is a relatively uncommon disease, the rate of infectious syphilis has greatly increased by 220% in Windsor-Essex County since 2005.
There were a lower number (less than 5 cases per year) of acute hepatitis B infections, neonatal group B streptococcal infections, congenital cytomegalovirus infections, and neonatal herpes in Windsor-Essex County.
There were no reported cases of chancroid, hepatitis D, or ophthalmia neonatorum in Windsor-Essex County from 2005 to 2014.
In 2014, STIs cost Windsor-Essex County $21.9 million in direct and indirect costs.
The overall findings of this report demonstrate that STBBIs are becoming an increasing burden on the population health of Windsor-Essex County. There is marked need for further public health programs and strategies to prevent and reduce the burden of STBBIs within the Windsor-Essex County population.
Related Content