Main Content Region
Remington Park Cancer Cluster Investigation Report
Remington Park Cancer Cluster Investigation Report
Main Page Content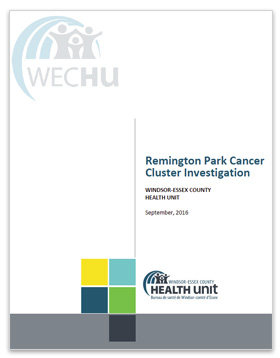 In 2015, the Windsor-Essex County Health Unit, with help from the agencies listed in the Acknowledgements section (see p.3 of report), studied a cancer cluster located in a part of Remington Park in Windsor, Ontario. Between 2000 and 2009, the rate of new lung cancer cases in that part of Remington Park was 2.2 times greater than the Ontario rate. Other forms of cancer were not above the provincial average.
For this study, the Health Unit tried to contact people who were diagnosed with lung cancer between 2000 and 2009 while living in Remington Park. The Health Unit met with 12 people or their next of kin to find common exposures that could explain the lung cancer cluster. Some key findings were:
Lung cancer takes at least 10 years to develop after first exposure. It often takes 20-25 years. For this group, the earliest exposure could have begun in 1951 with the latest period ending in 1999.
The 12 people in this study were mostly male (10 male and 2 female) and their age at diagnosis ranged from 40 to 83 years. The average age at diagnosis was 62 years.
Family history is a risk factor for lung cancer and 3 people (25%) in this study had a family member (mother, father or sibling) with a previous diagnosis of lung cancer.
No data are available on residential radon levels for the 12 people in this study.
Job-related exposure may be relevant for 11 people (92%). Four worked in manufacturing, five in construction, two in transportation, two in metals, and one in pulp and paper.
Five people had hobbies that could increase their risk of lung cancer, including: car repair, woodworking (mostly hard wood), gardening, and arc welding.
Ten people or their next of kin had environmental concerns related to at least one of their previous homes. Air pollution from nearby industry, motor vehicle traffic, and rail transportation were concerns shared.
All 12 people in this study were exposed to first-hand or second-hand tobacco smoke. Nine (75%) were daily smokers ranging from a few cigarettes to two packs a day. Two (17%) were occasional smokers and the one non-smoker had lived in a home with a smoker.
In conclusion, tobacco smoke was the only lung cancer carcinogen that all 12 people were exposed to in this study. Other risk factors were present, but not consistent among all people. The Health Unit will continue to monitor lung cancer rates in Remington Park and will continue to work with our partner agencies to inform our community on how to lessen their risk of developing cancer.
Related Content