Systematically Integrating Health Equity Into the Windsor-Essex County Health Unit 2013-2017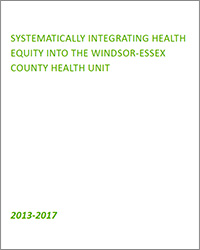 [2]
The Windsor-Essex County Health Unit is committed to actions that work towards reducing health inequities, remove barriers, and create opportunities for all members of our community to be healthy. To help us in this important work, we have developed this comprehensive Health Equity Strategy to support and guide our staff and organization in their efforts.
This important document provides the following:
An evidence-based summary of important health equity-related concepts and terms.
An overview of how the social determinants of health

[3]

 relate to health status and health outcomes.
An outline of challenges and opportunities facing our organization.
Strategies for priority setting and moving from strategy to action.
Plans for developing a process to formally and systematically integrating health equity into our organization's culture and activities.
File: PDF of 2013-2017 Systematically Integrating Health Equity Into the Windsor-Essex County Health Unit 2013-2017 [2]
File: Plain text document of 2013-2017 Systematically Integrating Health Equity Into the Windsor-Essex County Health Unit 2013-2017 [4]