Potassium Iodide (KI) Tablets Facts
In the event of a nuclear incident that involves a release of radioactive iodine into the environment, one of the health risks is possible exposure of the thyroid gland to radioactive iodine. One way to protect the thyroid from the harmful effects of radioactive iodine is to take potassium iodide (KI) pills.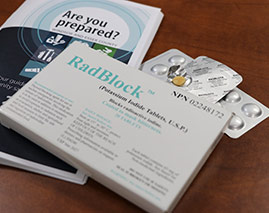 Commonly asked questions about KI tablets:
For further questions please call or email the Health Unit (519-258-2146 x 4445) or weki@wechu.org.
Related Content:
Last modified:
Monday, April 29, 2019 - 1:38pm
---
Source URL (modified on 2019-04-29 13:38): https://www.wechu.org/nuclear/potassium-iodide-ki-tablets-facts
Links
[1] https://www.wechu.org/tags/potassium-iodide
[2] https://www.wechu.org/tags/ki-pills
[3] https://www.wechu.org/tags/emergency-preparedness

---
© Windsor-Essex County Health Unit, 2020. All Rights Reserved.
1005 Ouellette Avenue, Windsor, Ontario N9A 4J8 - 519-258-2146