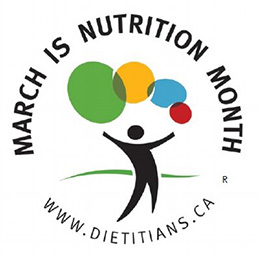 March is Nutrition Month
Each year in March, Dietitians across Canada [2] come together to celebrate healthy eating in an extraordinary manner. With a new theme each year, dietitians plan special events to engage, educate, and encourage their community to adopt healthier eating habits.
Nutrition Month 2017 – Take the Fight out of Food!
Nutrition Month 2017 focuses on supporting Canadians to improve their relationship with food.  The goal of nutrition month 2017 is to provide information and guidance to make it a little easier for Canadians to sort out common food issues.
If you're fighting with food, try this three-step approach:
Spot the problem. Identify your nutrition question or concern.
Get the facts. Learn ways to find reliable nutrition information, and to separate nutrition fact from fiction when working to solve your question.
Seek support. Seek help from regulated health care professionals, such as a doctor or a registered dietitian, for further support in solving your nutrition concerns.
Learn more about Nutrition Month and be sure to join us for the Sliced Windsor-Essex Community Cook-Off [3]!  You can also follow us on Facebook and Twitter for nutrition tips all month long.