Food Safety during Pregnancy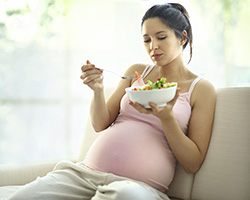 Food safety is very important throughout all years of the lifespan and especially so during pregnancy. Safe food handling can help to prevent the risk of food poisoning and help keep mom and baby safe. To learn more about food poisoning and safe food alternatives in pregnancy, food storage, defrosting, cooking and leftovers, see Health Canada's Safe Food Handling for Pregnant Women [1].
Related Content:
Last modified:
Tuesday, August 9, 2022 - 12:38pm
---
Source URL (modified on 2022-08-09 12:38): https://www.wechu.org/food-safety/food-safety-during-pregnancy
Links
[1] http://healthycanadians.gc.ca/eating-nutrition/healthy-eating-saine-alimentation/safety-salubrite/vulnerable-populations/pregnant-enceintes-eng.php
[2] https://www.wechu.org/tags/pregnancy

---
© Windsor-Essex County Health Unit, 2022. All Rights Reserved.
1005 Ouellette Avenue, Windsor, Ontario N9A 4J8 - 519-258-2146