Feature Story - Mosquito Surveillance Program
Feature Story - Mosquito Surveillance Program
The WECHU conducted a Mosquito Surveillance Program and Enhanced Mosquito Surveillance Program from mid-May to mid-October in 2017.
The programs included larviciding, mosquito surveillance, community education, and following up on West Nile virus (WNV) human cases.
The programs included the use of CDC Light Traps to monitor WNV activity. In Windsor and Essex County, there were 29 mosquito pools positive for WNV and 20 confirmed human WNV cases reported.
BG2 Sentinel traps were also used to monitor invasive species Aedes aegypti and Aedes albopictus. In 2017, Ae. aegypti mosquito were found in Windsor, which was the first in Canada. Ae. albopictus were also captured. 
All the mosquitoes tested negative for Zika Virus.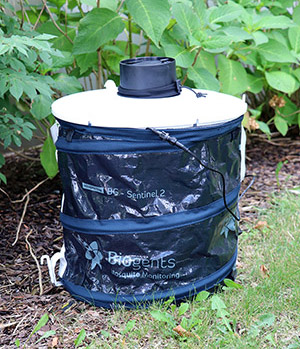 2017 Larvicide Treatment Statistics
Catchbasins
Round 1: 39,702 treatments
Round 2: 44,069 treatments
Round 3: 44,512 treatments
Total of 128,283 catch basins treated
Standing Water
51,515 m2 of standing water treated
26,402 adult mosquitoes were captured and 11,981 were identified
631 mosquito pools were tested for the presence of WNV
---
Source URL (modified on 2019-07-11 10:41): https://www.wechu.org/2017-annual-report/feature-story-mosquito-surveillance-program
---
© Windsor-Essex County Health Unit, 2020. All Rights Reserved.
1005 Ouellette Avenue, Windsor, Ontario N9A 4J8 - 519-258-2146