Feeding Your Baby
Feeding Your Baby
Breastfeeding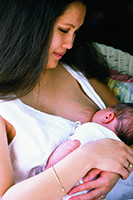 Our Health Unit provides breastfeeding education and support in the following ways:
For information about online and other local breastfeeding supports, go to our Breastfeeding Resources.
Mothers benefit from the support of other mothers who are breastfeeding, such as a friend or relative who is breastfeeding or who has recently breastfed. You can also meet other breastfeeding mothers through:
Breastfeeding Videos
Watch these informational videos about breastfeeding, provided by the Region of Peel.
The Latch
Positions
---
Introduction of Solids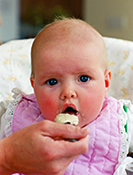 Best Start's Feeding Your Baby From Six Months To A Year is a great resource that can help you learn about:
When and how to start your baby on solid foods
How you can make homemade baby food
Safety and Allergies
For more information on starting solid foods or for a free copy of Feeding Your Baby From Six Months To A Year, you can contact our Healthy Families Hotline at 519-258-2146 ext. 1350 or send us an email.