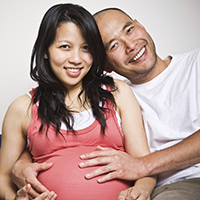 Having a baby may fill your mind with both excitement and doubt. You may have questions and concerns even if it's not your first pregnancy.
The Healthy Pregnancy Guide
Public Health Agency of Canada's The Healthy Pregnancy Guide offers great information about:
Healthy eating during pregnancy
Physical activity during pregnancy
Healthy weight gain during pregnancy
Tobacco and pregnancy
Alcohol and pregnancy
​Prenatal Courses
Due to COVID-19, the in-class Prenatal Breastfeeding Classes are on hold until further notice.
The Health Unit offers free in-class and online prenatal courses. Our courses include information on:
Changes during pregnancy
Managing labour and delivery
Newborn care
Breastfeeding