Grade 5 in motion™ Pass
Grade 5 in motion™ Pass
Main Page Content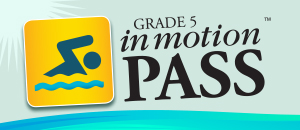 The Windsor-Essex County Health Unit, in partnership with the Leamington Kinsmen Recreation Complex and the Essex Recreation Complex, is pleased to continue an exciting opportunity for Grade 5 students who attend participating schools. Students are being given a Grade 5 in motion™ Pass which will grant them free admission to the Leamington Kinsmen Recreation Complex open swims, and to Family and Public swims at Essex Recreation Complex throughout the school year.
Students can use their Grade 5 in motion™ Pass as many times as they'd like during the designated times. More information will be supplied to students who are eligible for the program through their school.
The reason this opportunity is being prrovided to Grade 5 students is because research has found that there's often a decline in physical activity in both boys and girls as they approach their teen years. Swimming regularly is a fun way to increase physical activity and develop life-long healthy living habits.  
For more information, contact the Healthy Schools Department at extension 1555.
Locations:
Leamington Complex Participating Schools:
St. Louis
Queen Elizabeth
Margaret D. Bennie
Gore Hill
Mount Carmel Blytheswood
East Mersea 
South Shore Christian
Southpoint Christian
Cornerstone Christian School
Christian Fellowship Learning
St. Michel
Essex Recreation Complex Participating Schools:
St. Ursule (McGregor)
St. John the Evangelist (Woodslee)
Colchester North (Essex)
St. Mary (Maidstone)
Our Lady of the Annunciation (Stoney Point)
Essex Public
Holy Name (Essex)
St. Ambroise (St. Joachim)
Centennial Central (Comber)
Gosfield North (Cottom)
Rock of Help (Essex)
St. Paul (Stoney Point)
Malden Central (Amherstburg)
St. Anthony's (Harrow)
Harrow Public
Lakeshore Discovery
St. John de Brebeuf
Jack Miner
Kingsville Public School
Old Colony Christian Academy, Cottam
Old Colony Christian Academy, Kingsville 
Southern Shores
Related Content: