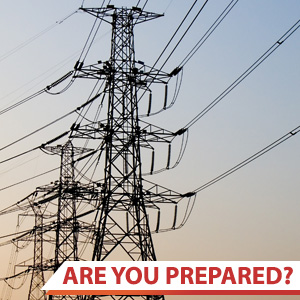 There's never a good time for a power outage to occur.  Severe storms and high winds can damage power lines and equipment which can lead to power outages. Extended power outages during extreme hot or cold weather could put your health and safety at risk.
Follow these tips to help you and your family stay safe.
It's always best to plan ahead for emergencies, have a safe water and food supply ready for you and your family, enough for at least 72 hours.
Keep freezer and refrigerator doors closed as much as possible to keep the cold air from getting out. It's important you know what to do with your food, especially hazardous foods (e.g., meat, chicken, fish, eggs and dairy) if your home is without electricity for an extended periods of time.
To reduce the risk of fire or carbon monoxide poisoning, never use barbecues, gas heaters, or portable generators indoors for cooking or heat source.
Using flashlights is a safer option than burning candles. If you choose to use candles never leave them unattended.
During a power outage, the water supplied to your home may no longer be safe to drink. Follow the advice of your municipality and Health Unit regarding the safety of the water supply. If there is any possibility that the water supply is unsafe, you will be advised to boil water prior to drinking.  More about Safe Drinking Water During a Power Outage
Unplug all appliances and electronics (televisions, laundry machines, toaster ovens, computers, monitors and printers etc.) to prevent damage caused by power surges when power is restored.
Leave a light or radio on so you will know when power is restored.