For Immediate Release
Friday, April 21st, 2023 | 10:00 a.m. | Windsor and Essex County
---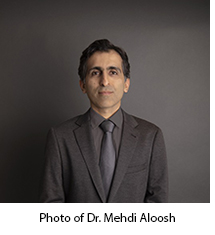 The Windsor-Essex County Health Unit (WECHU) Board of Health is pleased to announce the appointment of Dr. Mehdi Aloosh as the region's new Acting Medical Officer of Health (Acting MOH), effective May 1. Dr. Aloosh brings a wealth of knowledge and experience to the position as a public health and preventive medicine specialist, and a fellow of the Royal College of Physicians and Surgeons of Canada. His academic credentials include completing his training in public health and preventive medicine, as well as family medicine, at McMaster University, and obtaining a Master's in Epidemiology from McGill University.
Currently serving as a public health physician at Public Health Ontario, Dr. Aloosh provides medical consultation on a broad range of public health issues. He is also a practicing family physician and is involved in research and teaching at McMaster University.
On May 1, Dr. Aloosh will begin his tenure as Acting MOH from Dr. Shanker Nesathurai, who has provided medical guidance and leadership to the WECHU since October 2021. Dr. Nesathurai will remain with the WECHU after May 1 in a consultative capacity to ensure a seamless transition. "Dr. Nesathurai stepped in and provided exceptional leadership and guidance to the WECHU for the past 20 months and we sincerely appreciate his hard work in support of the Windsor and Essex County community," said Board of Health Chair, Fabio Constante.
On the incoming Acting MOH, Constante expressed his optimism related to the future of the organization, "The Board of Health conducted a thorough search for our new Acting MOH and we are so pleased to have Dr. Aloosh join the WECHU. His knowledge and experience will complement the capable and professional staff with strong leadership and management. With his guidance, the community will continue to receive exceptional public health service."
The incoming Acting MOH is excited to get started and said, "I look forward to getting situated in this new role and sitting down with the team and our community partners as we work to continue to promote, protect, and improve the health and well-being of the people in Windsor and Essex County. I look forward to interacting and engaging with the community and working together to address the local public health challenges."
Media availability will be provided upon the commencement of Dr. Aloosh's employment with the WECHU on May 1st and further details will be provided at that time.