News Release: March 31 Public Health Updates Related to Coronavirus (COVID-19)
News Release: March 31 Public Health Updates Related to Coronavirus (COVID-19)
Main Page Content
For Immediately Release
Tuesday, March 31, 2020 | 10:00 a.m. | Windsor-Essex County
---
The Windsor-Essex County Health Unit continues to work with the Ministry of Health, local health care providers, and municipal partners to monitor and coordinate the response to COVID-19 as the situation evolves in the province and the community. Protecting the health and wellbeing of the residents of Windsor and Essex County remains our top priority.
To date, we have 65 confirmed cases of COVID-19 in Windsor-Essex.
Overall, 1,052 individuals have been tested for COVID-19; and 330 tests are pending.
There are 7,437 confirmed cases of COVID-19 in Canada and 1,706 cases in Ontario, with 23 deaths.
***These numbers are as of March 31, 8:00 am
Individuals who suspect they have COVID-19 or are wondering if they should be tested should consult Ontario's Self-Assessment Tool
If you need further assistance, call TeleHealth Ontario at 1-866-797-0000 or your health care provider. You can also call the WECHU at 519-258-2146 ext. 1420
What is happening locally?
As a region bordering the United States there are unique public health concerns and risks that must be considered during the COVID-19 pandemic. The state of Michigan has close to 5 times the number of cases than Ontario, and the City of Detroit has approximately as many cases as the province of Ontario. As the Medical Officer of Health for the Windsor-Essex region, Dr. Wajid Ahmed has asked for stronger restrictions for our border last week. While non-essential traffic has been restricted, essential traffic (workplace traffic) is still permitted. There are many individuals that cross for work purposes including healthcare workers. The WECHU recommends against cross border trips during this time. Solutions need to be considered to reduce the need for individuals to cross the border, and those that do should strictly adhere to self-isolation requirements, going to work and straight home, avoiding any trips to local grocery stores or other essential services. Like other high risk populations essential workers crossing the border should arrange delivery services for food and other items to avoid interactions with the public. Given that close to 1/3 of our confirmed cases involve healthcare workers and more than half travel to the United States, the WECHU continues to be concerned with the border and the risk associated with daily travel to Michigan.
Each day Dr. Ahmed and the WECHU will address questions received through social media, telephone or email. Please continue to send questions via direct message or email to the WECHU. Today's questions are:
Question 1. Can I go outside? If you are in self-isolation and are sick Dr. Ahmed recommends that you do not go outside. If you are staying home as recommended for precaution but have no symptoms it is ok to go outside. Limit trips and ensure that you practice physical distancing by always maintaining 2 metres from yourself and others.
Question 2. How do you self-isolate in an apartment building or the same house? Does everyone have to self-isolate? If you are self-isolating and you live in an apartment it does not apply to the entire building. People in self-isolation should stay in their apartment and avoid going outdoors. Arrange for food and essential items to be delivered to your doorstep and avoid interactions with others. The same can be said for people living in the same house. If one person in the house is under self-isolation they should sleep in a separate room and if possible use a separate bathroom and maintain 2 metres distance from others in the house. Regular cleaning and sanitizing of shared spaces is important.
"Everyone in the community needs to remain vigilant. Stay home as much as possible and avoid physical contact with anyone outside. Keep busy by connecting virtually with others, reading a book, doing a puzzle or going for a walk. Limit trips to stores and go only when absolutely necessary," says Dr. Wajid Ahmed, Medical Officer of Health.
The number of confirmed cases of COVID-19 in Windsor-Essex increased from 44 on Monday to 65 on Tuesday.  Figure 1 below provides an overview of current confirmed cases by age for Windsor-Essex.
Figure 1 Confirmed Cases of COVID-19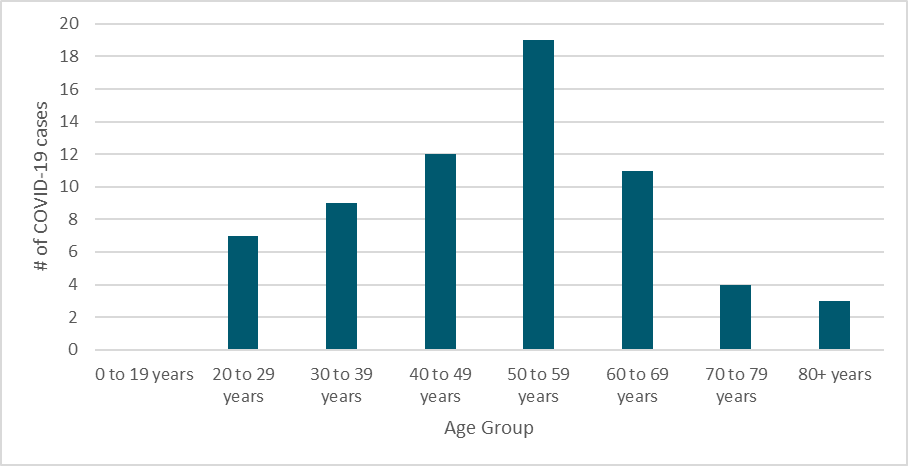 Current Provincial Guidance & Restrictions
The province is providing guidance, recommendations and restrictions on a regular basis to public health. As of March 17th, 2020, under the provincial Emergency Act the following orders are in place until April 15th:
Mandatory under the federal Quarantine Act, anyone traveling outside of Canada should self-isolate for 14 days upon return. If symptoms develop during self-isolation, including fever and/or cough call public health at 519-258-2146 ext. 1420.
Prohibition on organized public events and social gatherings over 5 people (funerals can have up to 10)
Closure of all communal or shared public or private, outdoor recreational amenities everywhere in Ontario including gardens, parks, sports fields beaches, etc.
Closure of all Ontario Parks to visitors
Closure of all licenced child care centres
Closure of all public schools
Closure of all public libraries
Closure of all facilities providing indoor recreational programs
Closure of all private schools as defined in the Education Act
Closure of all Theatres and movie theatres
Closure of all concert venues
Closure of all Casinos (until further notice)
Closure of all bars and restaurants, except to the extent that such facilities provide takeout food and delivery
Closure of all non-essential workplaces
Long Term Care, Retirement Facilities, Hospice, and residential care facilities only permit essential visitors and actively screen visitors for symptoms and travel history, excluding entry if failed screening
Suspension of all non-essential travel outside of Canada
Physical distancing (2 Metres)
Orders are being actively enforced.
Be advised that there is currently a state of emergency declared for the City of Windsor and the County of Essex
Current recommendations from Dr. Wajid Ahmed, Medical Officer of Health
Dr. Wajid Ahmed supports all of the recommendations and restrictions provided by the Government of Ontario for the City of Windsor and County of Essex. As well Dr. Ahmed recommends:
All residents returning from travel outside of Canada self-isolate for 14-days upon return, including essential workers returning from non-essential travel.
Seniors and high risk individuals should avoid any non-essential trips and stay home as much as possible.
Commuters that cross to Detroit for work purposes should consider work from home options with their employer where possible and regularly self-monitor for any symptoms including taking their temperature.
Employers in Windsor and Essex should make arrangements for their employees to work from home whenever possible. If work from home is not an option, please ensure that your workplace follows the 2 meter physical distancing measure to ensure the safety and well-being of all employees and the community.
Healthcare workers especially those who work in long term care homes and are employed in multiple settings should work with their employers to restrict their work to one institution (whenever possible) during the COVID-19 pandemic.
Physicians should screen clients over the phone and refer as appropriate. 
Implement your emergency preparedness plan to ensure you have what you need in case of self-isolation.
Wash hands with soap & water thoroughly and often.
Cough or sneeze into your sleeve or a tissue. Dispose of tissue immediately and wash your hands.
Keep surfaces clean and disinfected.
Stay home when you are sick; call your health care provider for advice and take the online self assessment tool for COVID-19.
The WECHU encourages the public to follow credible sources for information about COVID-19. The WECHU monitors and updates our website daily including case counts for Windsor and Essex County. For up to date facts visit www.wechu.org
Visit Ontario's website to learn more about how the province continues to protect Ontarians from COVID-19.
Related Content