News Release: April 6th Public Health Updates Related to Coronavirus (COVID-19)
News Release: April 6th Public Health Updates Related to Coronavirus (COVID-19)
Main Page Content
FOR IMMEDIATE RELEASE: 
Monday, April 6th, 2020  | 1:30 p.m. | Windsor-Essex County 
---
The Windsor-Essex County Health Unit continues to work with the Ministry of Health, local health care providers, and municipal partners to monitor and coordinate the response to COVID-19 as the situation evolves in the province and the community. Protecting the health and wellbeing of the residents of Windsor and Essex County remains our top priority.
To date, we have 204 confirmed cases of COVID-19 in Windsor-Essex, 3 deaths.
Overall, 1,534 individuals have been tested for COVID-19; and 148 tests are pending.
*local numbers are as of April 6, 8:00 am
** provincial and national numbers are as of April 6, 12 noon
Individuals who suspect they have COVID-19 or are wondering if they should be tested should consult Ontario's Self-Assessment Tool.
If you need further assistance, call TeleHealth Ontario at 1-866-797-0000 or your health care provider. You can also call the WECHU at 519-258-2146 ext. 1420.
What is happening locally?
The WECHU has received questions from the general public, businesses and agencies about the use of personal protective equipment (PPE), in particular the necessity or use of masks, including homemade masks. In light of recently released projections by the province of Ontario, COVID-19 stands to have a considerable impact on Ontario even with strict public health measures in place. In Windsor-Essex, 44% of confirmed cases have been in healthcare workers, underpinning the critical importance of ensuring that our healthcare workers have the appropriate PPE when working for their protection and the protection of their patients. There is currently no evidence that COVID-19 is spread through airborne transmission. Current recommendations for healthcare workers include the use of surgical/procedure masks when providing direct care to patients who are positive for COVID-19. N-95 respirators are only recommended for aerosol-generating procedures on suspect or confirmed COVID-19 patients. As well for individuals providing direct care (household members etc.) for individuals who may have COVID-19 the use of a procedure/surgical mask is recommended.
Recently the Centers for Disease Control and Prevention (CDC) has recommended that all citizens start wearing homemade cloth face masks when going outside to curb the potential of asymptomatic spread. The CDC indicates that the use of cloth masks in public, where physical distancing is difficult to maintain such as a grocery store or other public setting. The agency further notes that these masks may not completely protect from COVID-19 but may provide some additional protection if donned properly. This recommendations from the CDC also reinforces the need to ensure that medical masks should be reserved for healthcare workers and other first responders. While the research is out on the effectiveness of cloth masks, Dr. Theresa Tam, Chief Public Health Officer of Canada, has recently stated that they may be helpful for the general public when physical distancing is not possible to protect individuals who may be asymptomatic from unknowingly spreading COVID-19 to others.
Dr. Wajid Ahmed, Medical Officer of Health does not want to deter residents from taking all appropriate precautions to protect themselves and others, however cautions that if residents are considering the use of homemade masks they need to make sure they use them properly to avoid any negative impacts
Before putting on a mask, wash your hands with soap and water thoroughly
Secure the elastic loops around your ears
Ensure the mask completely covers your nose and mouth and that there are no gaps
Do not touch the mask while wearing it and remove by the elastic loops or ties
Wash your hands thoroughly and throw away in a secure and proper way(if disposable) or wash in a washing machine if reusable
Most important, the best protection from COVID-19 is to:
Stay home as much as possible
Ensure physical distancing from others (minimum of 2 metres) at all times
Wash your hands regularly and thoroughly
Do not touch your face, nose, mouth or eyes before washing hands
For more resources and videos on how to properly wear a mask go to World Health Organization to watch their instructional videos.
Everyday Dr. Ahmed will answer your questions. Today's question is:
What is the difference between airborne transmission and droplet?
Some viruses are transferred through large droplets created when someone sneezes or coughs and those droplets come into contact with the eye, nose or mouth allowing entry into the body. Typically droplets spread up to 2 metres and then drop to the ground. Common viruses that are spread through droplet transmission include influenza and SARS. Current science for COVID-19 indicates it also is spread by droplet transmission.
Airborne transmission happens when evaporated droplets containing the virus stay in the air for long periods of time and transmission occurs when someone breathes in and the virus gets into their throat or lungs. Common diseases that spread through airborne transmission include turberculosis measles or chickenpox.
Long-Term Care Outbreaks
Long-Term Care facilities are regularly monitored and supported by public health inspectors. Outbreaks are managed through appropriate outbreak management protocols under the advice and guidance of public health. Any facility with at least one positive case of COVID-19 in a staff person or resident is considered an outbreak as per Ministry direction. We are currently experiencing COVID-19 outbreaks in the following facilities:
Amica Riverside (Windsor), County Village Homes (Woodslee), Heron Terrace (Windsor), Lifetimes on Riverside (Windsor), Riverside Place (Windsor), Village of St. Clair (Windsor).
Details regarding these outbreaks can be found on the WECHU website.
"Managing these outbreaks in long term care homes is a priority for the Windsor-Essex County Health Unit. The WECHU staff are working closely with these homes to ensure that appropriate measures are in place to control the outbreak in these facilities. ", says Dr. Wajid Ahmed, Medical Officer of Health.
Cases increased from 184 reported Sunday April 5th to 204 Monday April 6th. For further case details visit us at wechu.org.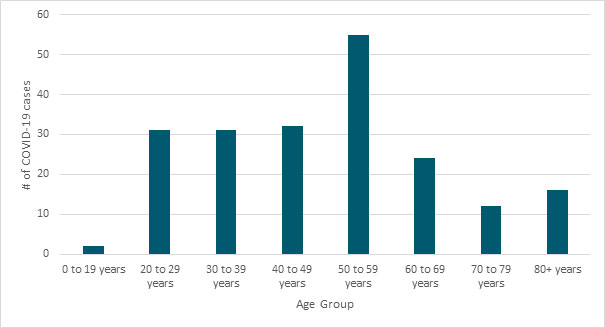 The provincial government has issued a number of guidelines and restrictions under the provincial Emergency Act. For a full list of current recommendations, guidelines and restrictions, please visit the Windsor-Essex County Health Unit website.
The WECHU encourages the public to follow credible sources for information about COVID-19. The WECHU monitors and updates our website daily including case counts for Windsor and Essex County. For up to date facts visit www.wechu.org.
Visit Ontario's website to learn more about how the province continues to protect Ontarians from COVID-19.
Related Content