News Release: April 5th Public Health Updates Related to Coronavirus (COVID-19)
News Release: April 5th Public Health Updates Related to Coronavirus (COVID-19)
Main Page Content
FOR IMMEDIATE RELEASE: 
Sunday, April 5th, 2020  | 1 p.m. | Windsor-Essex County 
---
The Windsor-Essex County Health Unit continues to work with the Ministry of Health, local health care providers, and municipal partners to monitor and coordinate the response to COVID-19 as the situation evolves in the province and the community. Protecting the health and wellbeing of the residents of Windsor and Essex County remains our top priority.
To date, we have 184 confirmed cases of COVID-19 in Windsor-Essex, 3 deaths.
Overall, 1,496 individuals have been tested for COVID-19; and 202 tests are pending.
***local numbers are as of April 5, 8:00 am
Individuals who suspect they have COVID-19 or are wondering if they should be tested should consult Ontario's Self-Assessment Tool
If you need further assistance, call TeleHealth Ontario at 1-866-797-0000 or your health care provider. You can also call the WECHU at 519-258-2146 ext. 1420
What is happening locally?
As of 11:59pm Saturday April 4th, new restrictions for businesses were in place under the provincial Emergency and Civil Protection Act. Law enforcement and the WECHU inspectors are actively enforcing these measures. The WECHU has been in discussion with law enforcement to coordinate our response and enforcement efforts and will update its website to ensure that the community knows who to call for complaints and follow up in different circumstances.
Long-Term Care Outbreaks
Long-Term care facilities are regularly monitored and supported by public health inspectors. Outbreaks are managed through appropriate outbreak management protocols under the advice and guidance of public health. Any facility with at least one positive case of COVID-19 in a staff person or resident is considered an outbreak as per Ministry direction. We are currently experiencing COVID-19 outbreaks in the following facilities: 
| Facility | Cases in Staff | Cases in residents |
| --- | --- | --- |
| Amica | 2 | 1 |
| Country Village Homes | 5 | 6 (2 deceased) |
| Heron Terrace | 2 | 0 |
| Lifetimes on Riverside | 2 | 1 |
| Riverside Place | 2 | 0 |
| The Village of St. Clair/Schlegel Village | 1 | 0 |
All cases are in self-isolation and appropriate measures and precautions are being taken. As of Monday April 6th, details regarding new and current outbreaks will only be found on our website and updated daily. The WECHU only provides information on cases that they have been confirmed and followed up on.
"Long-Term Care residences support the most vulnerable in our community. The healthcare workers that serve these institutions provide an important and critical service. It is imperative that staff who are ill stay home! As well I reiterate my strong recommendation that healthcare workers, particularly those that serve long-term care, restrict their employment to only one facility during this pandemic. All healthcare workers should monitor daily for symptoms and self-isolate when not at work ", says Dr. Wajid Ahmed, Medical Officer of Health.
Cases increased from 160 reported Saturday April 4th to 184 Sunday April 5th. For further case details visit us at wechu.org.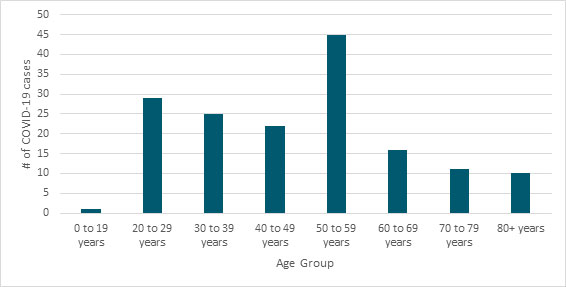 The provincial government has issued a number of guidelines and restrictions under the provincial Emergency Act. For a full list of current recommendations, guidelines and restrictions, please visit the Windsor-Essex County Health Unit website.
The WECHU encourages the public to follow credible sources for information about COVID-19. The WECHU monitors and updates our website daily including case counts for Windsor and Essex County. For up to date facts visit www.wechu.org
Visit Ontario's website to learn more about how the province continues to protect Ontarians from COVID-19.
Related Content