May is Rabies Awareness Month!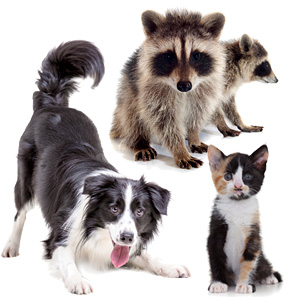 May is Rabies Awareness Month and the spring is a great time to remind Windsor- Essex County residents about animal safety! In Canada, bats, foxes, skunks, and raccoons are the most common transmitters of the disease. In Ontario, in 2016, 288 animals tested positive for rabies (mostly raccoons, skunks and bats, but also a cow, cat, llama and red fox). It's important to know what you can do to help keep your family safe.
What is rabies?
Rabies is a viral disease that affects the brain and spinal cord of warm-blooded animals, and humans. Once symptoms appear, rabies is almost always fatal. Rabies is spread through saliva in infected animals to humans and other animals primarily by bites. Rabies can also be spread through scratches, exposure to mucous membranes or open skin.
Follow these tips to keep your family and your pets safe:
Protect your family:
Do not attempt to pet or feed unfamiliar domestic or wild animals (If you don't know them, please don't pet them)
Do not disturb animals when they are eating, sleeping or with their babies
Do not attempt to break up an animal fight using your body
Keep your garbage properly sealed to avoid attracting wild animals
Teach your children at a young age about animal safety
Protect your pets:
Vaccinate your pets against rabies (3 months of age or older); it's the law
Keep your pets away from wild or stray animals
Keep your pets on a leash when off of your property
Monitor your pets often when they are outside
Seek veterinary assistance if your pet has been attacked by another animal
If you are bitten or scratched by a pet or wild animal:
Wash the wound with soap and warm water for at least 15 minutes
Seek immediate medical attention
Obtain the pet owner's contact information if possible
Report the incident to the Windsor- Essex County Health Unit at ext. 1474 for a Public Health Inspector to investigate the incident (After hours or on holidays: 519- 973-4510)
Learn more information about Rabies or Animal Bites/ Scratches