Benefits of Certification
The Living Wage for 2021 is currently being calculated and the figure will be available soon.

Main Page Content
Why become certified as a living wage employer?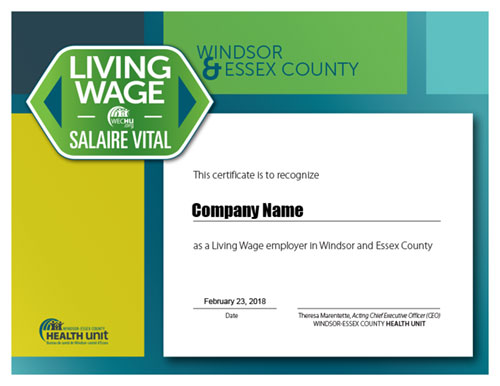 When customers see the Windsor and Essex County Living Wage Certification Program logo they may recognize your workplace as a socially responsible business.
Your organization will be recognized as a Certified Living Wage Employer at the Gord Smith Healthy Workplace and Bike Friendly Awards banquet in October.
You can proudly display your Living Wage Employer certificate and window decals in your place of business.
All Certified Living Wage Employers will receive living wage electronic email signatures and the living wage electronic logo to use on websites and print materials.
Your organization will have access to a series of sample social media messages that you can use to promote your organization as a Certified Living Wage Employer.
Related Content:
Last modified:
Wednesday, December 29, 2021 - 2:54pm