Radon
Radon
Main Page Content
What is Radon?
Radon is produced when uranium found in soil, rock or water decays. Radon is found across Canada because it occurs naturally in soil. The gas naturally rises up from the soil and can get into any type of building where it builds up due to negative pressure and lack of air flow. Breathing in radon gas for extended periods of time can potentially be hazardous to you and your family.
What are the health effects of Radon?
Radon is a colourless, odourless, radioactive gas that is found naturally in the environment.
According to Health Canada, long-term exposure to radon is the second leading cause of lung cancer after smoking! Radon can increase your chances of lung cancer if you are a smoker.
RADON GAS EXPOSURE
accounts for approximately
16%
of lung cancer deaths in Canada
According to Public Health Ontario, approximately 13.6% of lung cancer deaths yearly in Ontario are due to radon gas exposure.
What is the Canadian Guideline for Radon levels?
Radon in living areas is measured in Becquerel's per cubic meter (Bq/m3).
The Canadian Guideline for a home's radon concentration is 200 Bq/m3.
What is the prevalence of Radon?
Health Canada estimates that some parts of Canada may be over 20% above the recommended levels. In 2011, 13.8% of homes tested in Windsor and Essex County had a radon level at or above Canada's guideline of 200 Bq/m3.
Percent of homes tested with radon concentrations at specified levels in Windsor-Essex County, 2009-2011

| | |
| --- | --- |
| 13.8% | At or above 200 Bq/m3 |
| 9.2% | 150 to less than 200 Bq/m3 |
| 21% | 100 to less than 150 Bq/m3 |
| 28.2% | 50 to less than 100 Bq/m3 |
| 27.7% | Less than 50 Bq/m3 |
Data Source: Health Canada. Cross-Canada survey of radon concentration in homes: final report. Ottawa, ON: Her Majesty the Queen in Right of Canada, represented by the Minister of Health; 2012. Available here.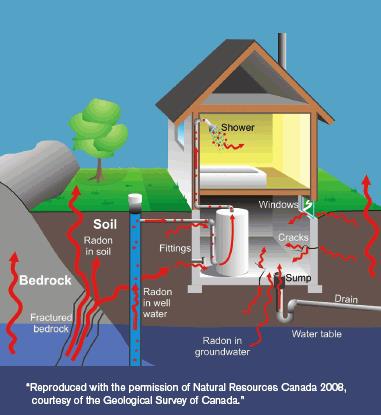 How does Radon get into my home?
Radon gas enters into buildings through cracks in foundation walls and floors, or gaps around pipes and cables. Radon levels are often highest in crawl spaces and basements as they generally have poor ventilation and are closest to the source of entry. Although radon outdoors is diluted in the air and not a threat, in enclosed spaces like your home, it can get trapped and accumulate to higher levels.
Levels of radon can differ from home to home, but almost all homes will have some radon. Radon levels depend on a variety of factors including:
soil characteristics
construction type
foundation
lifestyle of occupants
weather
The variety of factors makes it impossible to predict radon levels in a home; the only way to know your level is to test.
How can I test my home for Radon?
The only way to know the level of radon in your home is to test for it.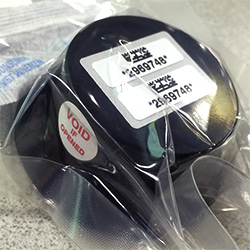 You have two options for testing:
Radon test kits are available at your local hardware store or online.
Be sure to check the expiry date on the detector before buying and starting the test. Health Canada recommends using a long-term test kit that measures radon levels for at least 3 months during the Fall or Winter when windows are closed. The detector should be placed in the lowest lived level of your home where you spend a minimum of 4 hours per day.
There are also Canadian-National Radon Proficiency Program (C-NRPP) Certified professionals in Ontario that can use specialized equipment to measure radon levels in your home. Find one at www.c-nrpp.ca or call 1-855-722-6777.
What do I do if I have high levels of Radon in my home?
Steps should be taken to lower the radon level in a home whenever the average annual radon concentration exceeds 200 Bq/m3 in the normal occupancy area (the lowest lived-in location where you spend more than 4 hours per day).
It is the sole responsibility of the homeowner to mitigate the harmful effects of radon in their home.
Please note: there is no level of radon exposure that is considered risk free. It is the choice of each homeowner to decide what level of radon exposure they are willing to accept and to act accordingly.
It's recommended that the higher the radon concentrations, the sooner remediation should be done to reduce levels.
Next Steps
Consult with a certified radon professional to determine the best radon reduction method for your home. Contact the Canadian National Radon Proficiency Program (C-NRPP) for a certified radon professional at 1-855-722-6777 or www.c-nrpp.ca
Contact Health Canada regarding your health risk questions toll free at 1-866-225-0709 or email radon@hc-sc.gc.ca
Retest your home for radon after mitigation is complete.
For more information on radon reduction strategies, please see the 'Radon- Reduction Guide for Canadians' booklet on Health Canada's website or stop by the Windsor-Essex County Health Unit between 8:30 am – 4:30 pm for a hardcopy of the booklet.
Related Content: