Food Charter for Windsor and Essex County
Main Page Content
The Good Food Charter of Windsor-Essex County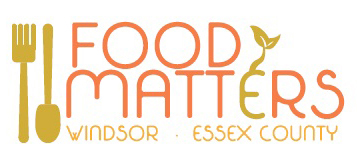 Food Matters Windsor-Essex County (FMWEC) consists of a group of individuals from Windsor and Essex County who share a passion for food and the many issues affecting our food system. Members of FMWEC represent all sectors of the food system including growers, processors, distributors, eaters, and waste managers. The Food Charter doesn't belong to FMWEC, though; the Food Charter is a community document outlining community values. Therefore, although FMWEC has taken the action to develop and promote the Food Charter, it has truly been developed by the residents of Windsor and Essex County.
Food Matters Windsor-Essex County aims to represent all sectors of our local food system: producers, processors, distributors, consumers and food waste managers.
What is a Food Charter?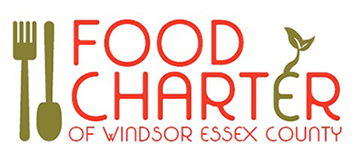 A Food Charter outlines a community's shared values, vision and principles for their local food system. The Good Food Charter of Windsor Essex County has been created with the help of the community. It can be put into practice by everyone including: individuals, families, businesses, organizations and municipalities. We value health and well-being as the primary goal driving the Good Food Charter of Windsor Essex County (WEC). Healthy eating contributes to physical, mental, spiritual, emotional and cultural well-being. Healthy eating is a cost-effective form of disease prevention.
Who can use the Food Charter?
The Food Charter can be used by different people, including:
Individuals
Groups
Organizations
Communities and municipalities
Decision-makers
How can the Food Charter be used?
The Food Charter can be used in different ways. For example, it can be used to:
Guide personal decisions about food (e.g., what, where, and when to purchase food).
Bring individuals and groups together to work on projects or activities that impact and improve the food system.
Guide organizations to design their internal policies, guidelines, and activities to match the community's values about food, agriculture, and the environment.
Raise awareness amongst decision-makers and guide them to develop food-related policies in-line with the community's vision for a healthy, just and sustainable food system.
What is a Food System?
The food system includes everything, such as activities and people, involved in the food cycle including those who:
Produce food
Process food
Distribute food
Access food
Consume food
Manage food waste
Therefore, everyone is a part of the food system.
What is Local Food?
Food Matters Windsor Essex County defines local food as that which is grown close to home. Usually this refers to food grown in Essex County; it can include southwestern Ontario, or even the rest of the province.
Health and Wellbeing
Good food matters to everyone! All who live, play, learn, and work in WEC have the right to the best health and well-being that a strong food system provides. The Good Food Charter of Windsor Essex County is based on four guiding principles:
Celebration of Food
Environmental Sustainability
Social Justice
Sustainable Economic Development
Therefore residents of WEC support:
Access to nutritious food for all
Access to quality food skills and education initiatives
Availability of healthy food choices in schools, workplaces and public spaces
Public policies that protect the health and well-being of the community
What are the key principles of the Windsor-Essex County Food Charter?*
Celebration of Food:
Food brings us together to celebrate the history, culture and diversity of our community. Therefore residents of WEC support:
Sharing of food as a community experience.
Linking rural and urban communities.
First Nation and Metis communities in the traditional belief that all land is sacred.
Food celebrations, festivals and activities that highlight our diverse cultures.
Environmental Stability:
Environmental practices and policies conserve our natural resources and provide a healthy food system now and for future generations. Therefore residents of WEC support:
Protecting the environment with clean air, land and water.
Reducing food waste and food packaging.
Composting programs that turn food waste into a resource.
Community gardens and home gardening as a way to connect people to their natural environments and food sources.
Best practices of traditional and new responsible farming approaches that protect the environment.
Social Justice:
Everyone has the right to access sufficient, affordable, healthy, safe and culturally appropriate food with dignity. Therefore residents of WEC support:
Opportunities for people to take charge of where, when and how they get food.
Fair wages that allow workers to provide for themselves and their families.
Safe and respectful work environments for all in farming and food businesses.
Food that is ethically raised, produced, distributed and sold.
Protection of farm land for current and future generations.
Protection and growth of family farming.
Sustainable Economic Development:
Farming and food related businesses contribute to economic growth, employment opportunities and a sustainable local food system. Therefore residents of WEC support:
Growing, processing, distributing and consuming local food.
Availability of local food products year round.
New partnerships that bring together our local food system with government, health, tourism, education and hospitality sectors.
Growing foods that historically grew in our area.
Growing foods that meet the needs of our culturally diverse community.
*These principles have been suggested based on our community's current needs and wants. The Food Charter will change as community values for their food system change.
How to LIVE The Good Food Charter of Windsor-Essex County
The top 10 ways you can "Live the Good Food Charter:"
Grow your own food or join a community garden.
Get to know your local farmers.
Spend at least $10 a week on local food.
Take a cooking class.
Cook from scratch.
Try a new vegetable or fruit each month.
Cook a meal with a child or youth and make your own recipe book.
Share a meal with a neighbour.
Compost.
Ask your elected officials if they support the Good Food Charter of Windsor-Essex County.
Related Content:
Last modified:
Wednesday, October 23, 2019 - 9:14am