Food Vendors Set Up
Food Vendors Set Up
Main Page Content
Follow the guidelines listed below to meet the requirements to operate. Failure to meet the requirements may lead to a delay or inability to offer food for sale to the public. If any health hazard is found to exist during the operation of your food booth, the Health Unit may require you to stop operation until the health hazard is corrected.
On this page:
Food Booth Construction
Food preparation must be done in an enclosed area with a roof and at least two sides or walls. The front will be used for sale and service of food and the back will be used as an opening to the cooking area.
The floor must consist of a solid material such as plywood or cement, and be maintained in a sanitary manner. Do NOT use tarps or carpet for flooring. Raised flooring such as pallets is strongly recommended when the food booth is subject to ground contamination (e.g., grass, dirt, gravel, or poorly drained areas).
Food preparation surfaces must be smooth, in good repair, non-absorbent, and easy-to-clean.
Food booths must be supplied with a potable water source. All water lines should be disinfected prior to use and meet the plumbing code.
Provide onsite or have access to a two-compartment sink with hot and cold running water for washing utensils.
Hand washing sinks are required to have:

Hot and cold running water or tepid water supply
Liquid soap in a dispenser
Paper towels
If a portable hand sink is not available, you may construct  a temporary hand wash sink by following the diagram below: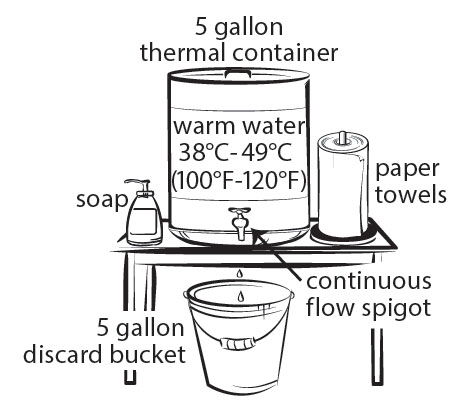 Garbage containers need to:

Be made of a durable material
Have lids
Be conveniently located
Be non-absorbent
Be emptied when needed
Food Protection
All food must be obtained from an approved source and prepared in an inspected food premise. Food that's canned or prepared at home cannot be sold or served to the public.
Raw and ready-to-eat products must be fully separated and stored in tightly covered containers to prevent contamination. This includes during transportation. You must use separate cutting boards when preparing raw meat and ready-to eat foods such as produce.
Protect food from contamination with the use of containers, lids, and covers.
Food must be stored at least 15cm (six inches) off the floor in clean, durable containers, and covered in a sanitary manner.
Food shall be handled with utensils such as tongs, scoops, or spoons, to avoid contact with hands.
Adequate number of clean utensils must be available on site and stored in a sanitary manner.
Only single use utensils (e.g., plastic, paper, styrofoam) are permitted for serving customers.
Single service packets of condiments are recommended.
Provide a sanitizer bucket or spray bottle to sanitize food contact surfaces with the following concentrations:

Chlorine – 200ppm
Quaternary ammonium – 400ppm
Iodine – 50ppm
Test strips must be used to verify the concentration of the sanitizer. Make sure all buckets or bottles are labelled.
Temperature Control
Cooking Temperature
All hazardous foods must be cooked to the minimum cooking temperature for at least 15 seconds.
Fish – 70°C (158°F)
Pork and ground meat, not including poultry – 71°C (160°F)
Poultry including ground poultry – 74°C (165°F)
Whole Poultry – 82°C (180°F)
Cold Holding
Hazardous foods must be stored at 4°C (40°F). Mechanical refrigeration is highly recommended.
Thawing
Never thaw foods at room temperature. Thaw foods at 4°C (40°F) or less in a:
Cooler
Ice bath
Sink under cold running water
Hot Holding
Cooked foods that are intended to be served hot must be maintained at an internal temperature of 60°C (140°F) or higher.
Reheating
Foods must reach a minimum of 74°C (165°F) within two hours.
Personal Hygiene
Wear clean outer garments.
Wear headgear that confines your hair.
Do not smoke or eat while you're preparing food.
Wash hands thoroughly with soap and water:

Before preparing foods.
After using the toilet.
After sneezing, coughing.
After handling money.
After handling garbage.
Dishwashing
Equipment and utensils must be washed and sanitized in a two-compartment sink after each use. Following this method: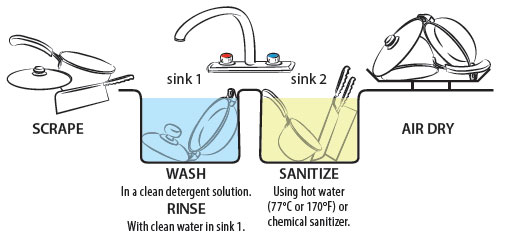 Checklist
Did you forget anything?
Hand wash station and supplies (i.e., paper towels, liquid soap in dispenser)
Thermometers (probe and indicator)
Dishwashing detergent and sanitizer
Dishwashing area with two sinks
Sanitizer test strips (test reagent)
Extra utensils
Coolers are maintained at 4°C (40°F)
Freezers are maintained at -18°C (0°F) or less
Garbage bags
Wiping cloths
Hairnets and clean outer garments
Waste water container
Platform or shelving to raise food and other items off the ground (at least 15cm)
Single use utensils
Covers or lids for food storage (e.g., aluminum foil, plastic wrap)
Related Content: