Gord Smith Healthy Workplace & Bike Friendly Workplace Awards
Gord Smith Healthy Workplace & Bike Friendly Workplace Awards
Main Page Content
Award winners will be presented with their Healthy Workplace and Bike Friendly Awards on October 17th, 2018.
Applications are due July 20th, 2018
The Windsor-Essex County Health Unit and the Working Toward Wellness (WTW) Workplace Wellness Committee are pleased to present The Gord Smith Healthy Workplace Awards & Bike Friendly Workplace Awards Program for 2018!
The purpose of the awards program is to recognize local workplaces that provide comprehensive workplace wellness programming. The awards program is available to all workplaces in Windsor and Essex County, regardless of the company size or how established the workplace wellness program may be. Award recipients must demonstrate a strong commitment towards improving health by promoting and supporting a comprehensive approach to wellness programming for employees, and ideally, for family members and retirees.
Workplaces will receive an awards plaque that can be displayed at their workplace, a custom e-signature for their e-mails, and community recognition at the awards breakfast banquet for their hard work and commitment towards enhancing the health of their employees.
NEW THIS YEAR – LIVING WAGE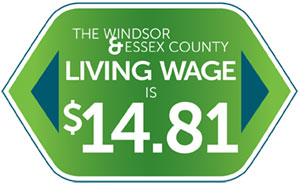 The 2018 living wage rate in Windsor and Essex County is $14.81
Workplaces in Windsor and Essex County are encouraged to become Certified Living Wage Employers. To be eligible for the Platinum and Diamond level, workplaces must be a Certified Living Wage Employer.
NEW THIS YEAR - ONLINE APPLICATION
All award applications must be submitted online. We have updated and improved the online application process and anticipate that it will be much easier and more intuitive to use. The online application can be accessed year round, and award applicants are encouraged to upload evidence of wellness activities, policies, and evaluations as they are completed.
To gain access to the online application system, please submit your intent to apply to receive a username and password.
---
"Gord Smith Healthy Workplace and Bike Friendly Award Winners 2017
Bronze Level 1
Bronze Level 2
Silver Level 2
Gold Level 1
Platinum
Diamond
Bike Friendly Award
Related Content: