New Disclosure System Coming Soon!
New Disclosure System Coming Soon!
Main Page Content
Thank you for visiting the new WECHU online inspection disclosure web page.  We are currently under construction and will be launching soon.
The new online system will allow users to look up and read a number of reports from inspections conducted by the WECHU. This includes food establishments, licensed child care centres, public pools and spas, recreational campgrounds, small drinking water systems, and personal service settings (e.g. hair salons, barber shops, nail salons, tattoo and piercing and aesthetic services). All enforcement activity and advisories will be posted on this website.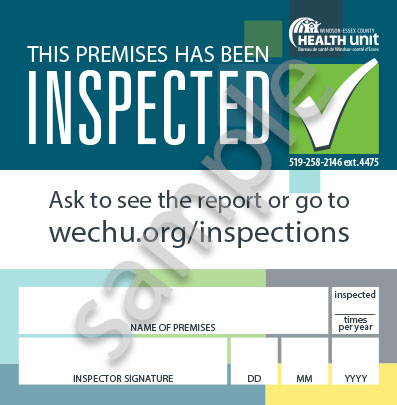 Seeing one of these signs at a place or business in Windsor-Essex County means that it has been inspected by a Public Health Inspector. If you would like to read the inspection report, you will be able to quickly and easily find it by name or location on this website.
This new sign will be replacing the 5-star "Safe Food Counts" signage that has been visible at food premises since 2009.  Please note that for all food premises, the inspection process will remain the same.
If you have any questions or would like to see an inspection report, please call our Environmental Health department at 519-258-2146 ext. 4475.
Related Content: