Tips for Grocery Shopping
What you need to know to help you and your family stay healthy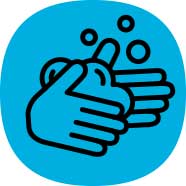 Wash your hands with soap and water thoroughly and often.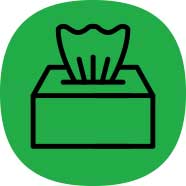 Cough and sneeze into your sleeve or a tissue. Dispose of tissue immediately and wash your hands.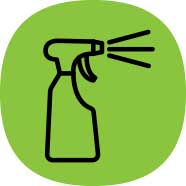 Keep surfaces clean and disinfected.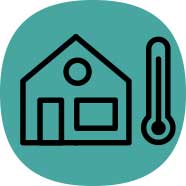 Stay home when you are sick.
Main Page Content
As we navigate during these unusual times, grocery shopping is one of the few outings that people still need to do. Trips to the grocery store should be limited, and if possible, only one person should go on behalf of the family.
Involve the family in planning the week's meals, and then create a shopping list to make sure you have all of the ingredients you need. Think about the types of food you put into your cart. Choose foods that are low in salt, sugar, and saturated fats, and high in nutrients like vegetables and fruit, whole grains and protein foods. Although treats can fit into a healthy diet, the less you have in your house, the easier it is  to limit the amount that you eat. Instead, choose foods to help you prepare healthy snacks.
If you are ordering your groceries on-line to be delivered, this is also a good opportunity to involve the family in planning the week's meals and building your grocery order together.
You can also build some finance teaching into this exercise. Discuss the family's food budget and build your recipes and shopping list around this budget. For further information on healthy eating on a budget visit, Canada's Food Guide.
Below you will find safe and helpful tips to make the most out of each shopping trip.
*Please remember that grocery stores are public settings. If you are asked to self-isolate or are not feeling well, grocery stores must be avoided.
Wash your hands before and after grocery shopping. You can find hand washing stations, sanitizer, and paper rolls available in the entrance way of your grocery store. Use this opportunity to wash your hands thoroughly and wipe down the handle of your shopping cart before entering the store. If these are not available, carry hand sanitizer with 70% alcohol concentration with you. Always wash your hands with soap and warm water when returning home.
Consider how often you visit the grocery store. If you normally make several trips a week to the grocery store, plan to buy a week's worth of groceries to avoid having to make multiple stops. Remember that social distancing does not mean that healthy people cannot visit a grocery store. It is the amount of time we spend in public settings that we want to limit.
Plan a shopping list and stick to it. Make it a habit to plan with the members of your household what food and household items need to be purchased and write this down. Make an inventory of what you already have and what is essential to purchase. This way, you have a list to avoid unnecessary browsing in the grocery store and can make your trip shorter.
Decide who in the household should do the shopping. You may be used to making grocery shopping a family trip. The less people you bring to the store with you, the better. Carefully decide who in your household is best fit to do the shopping. Those who are over 60 years old, pregnant women or those with chronic health conditions should stay home if possible.
Choose to shop during off-peak hours. Remember that social distancing calls for a space of two meters between you and another person. If you are able to, shopping when the stores are least crowded, such as during the week rather than the weekend, or during the day versus the evening, allows you to keep your distance from other shoppers in the store. Some stores may be offering designated "senior" shopping hours to allow older adults to shop with less people around. Contact your store to find out if they offer this service. 
Try to use contactless card payments. This way, you can avoid having to touch the keypad to enter in your pin, or avoid handling cash.
Be considerate of family, friends, or neighbours who may need your help. If you plan to go to the grocery store, ask someone who you know can benefit from having their groceries picked up for them, such as those in self-isolation, seniors, pregnant women, or those with chronic health conditions. Place their groceries at the doorstep or porch and contact them to let them know their groceries are outside.
If you have any other questions related to accessing food during these times, please visit https://www.wechu.org/cv/food for more information.
Related Content:
Last modified:
Tuesday, May 26, 2020 - 10:56am