Guidance for Taxi/Ride Share Employers, Drivers, and Vehicle Owners
Guidance for Taxi/Ride Share Employers, Drivers, and Vehicle Owners
What you need to know to help you and your family stay healthy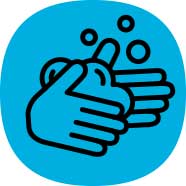 Wash your hands with soap and water thoroughly and often.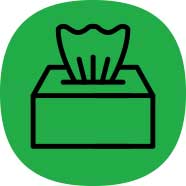 Cough and sneeze into your sleeve or a tissue. Dispose of tissue immediately and wash your hands.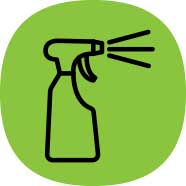 Keep surfaces clean and disinfected.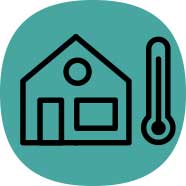 Stay home when you are sick.
Main Page Content
On this page
General Information
The following recommendations are to help reduce the risk of community exposures to respiratory illnesses such as COVID-19 for taxi drivers, ride share drivers, and passengers.  Using a taxi or ride share service can be a better alternative to using busier public transit because of lower rider volumes.
Any drivers who are showing symptoms of COVID-19 must remain home and not report to work. Employers/employees/drivers should be aware of the signs and symptoms of COVID-19. They include:
fever
cough
muscle aches and tiredness
difficulty breathing
and less commonly: sore throat, headache, diarrhea
Employers should also have flexible policies that allow drivers to stay home to care for a sick family member.
---
Frequently Asked Questions
What if a driver becomes ill while working?
Drivers who become ill while working must be sent home immediately and instructed to self-isolate and contact Telehealth Ontario or their health care provider for guidance.  They should not return to work until 14 days from symptom onset and no longer feeling unwell.
How can drivers and riders practice proper cough etiquette and hand hygiene?
Drivers should clean their hands often with an alcohol-based hand rub, or wash their hands with soap and water for at least 20 seconds whenever possible.
Drivers should clean their hands after handling money or helping with a passenger's personal items. Use electronic payment if possible.
Alcohol-based hand rub, tissues, and no-touch garbage bins should be available for driver and passenger use in every vehicle.
Signage in vehicles for cough and sneeze etiquette (such as coughing into elbow or sleeve instead of hands) and how to use a hand sanitizer should be placed where the information can be seen by passengers (e.g. in a clear plastic sleeve).
How should vehicles be cleaned and disinfected and how often?
Frequently touched surfaces are most likely to be contaminated. Examples of high-touch surfaces in vehicles include car door handles, arm rests, buttons for windows and locks, and seatbelts.
Frequently touched surfaces should be cleaned and disinfected at the following times:
at least twice per day, or after every rider if possible
when visibly dirty
after transporting medical patients (e.g. to and from hospital and other health care settings)
after transporting passengers who display respiratory symptoms (e.g. coughing, sneezing)
Commonly used household cleaners and disinfectants are effective against COVID-19. Employers/vehicle owners should provide all drivers with the appropriate cleaning products/disinfectant wipes for their vehicles.
Use only disinfectants that have a Drug Identification Number (DIN). A DIN is an 8-digit number given by Health Canada that confirms it is approved for use in Canada. Check the expiry date of products you use and always follow manufacturer's instructions.
What other preventive measures can drivers take when transporting passengers?
Request that passengers sit in the rear seats to maintain as much physical distance from the driver as possible.
Discontinuing shared rides so passengers are not traveling with individual's unknown to them.
Wear a face mask. If they are unwell, they should not drive.
Riders or drivers who should be in self-isolation because of illness, recent travel, or as mandated or recommended by their health care provider should not be using a taxi or ride share service or be working as a driver.
For more information about COVID-19 and how to protect yourself and others, visit www.wechu.org/coronavirus.
---
Resources
Related Content:
Last modified:
Tuesday, November 17, 2020 - 9:38am