Support Children, Family Members & Friends
What you need to know to help you and your family stay healthy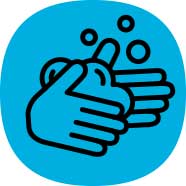 Wash your hands with soap and water thoroughly and often.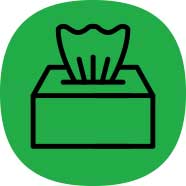 Cough and sneeze into your sleeve or a tissue. Dispose of tissue immediately and wash your hands.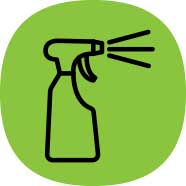 Keep surfaces clean and disinfected.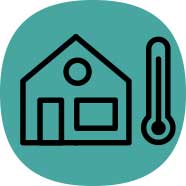 Stay home when you are sick.
If you are in a crisis, please contact the local crisis line at 519-973-4435, 911, or go to your local emergency department.
Main Page Content

Support Loved Ones Who are Anxious about COVID-19.
If a loved one is in a crisis, please contact the local crisis line at 519-973-4435, 911, or go to your local emergency department.
Every person will respond differently to the COVID-19 pandemic and will have a different method of coping. Regardless of coping style, loved ones can offer support to family members and friends experiencing anxiety or stress during the COVID-19 pandemic by doing the following:
Invite the person to talk. Listen to the person non-judgmentally and empathize with their situation. This includes allowing the person to speak freely by listening and asking questions without telling the person what to do. Try to understand where the person is coming from and always maintain open lines of communication.
Take an interest in the person's well-being by asking how they prefer to be supported. This may involve simply listening to the person, helping them to problem solve, taking them for a walk, or referring them to a mental health professional.
Remind the person that it is normal to feel stressed or anxious during this time and that there are supports available that have helped others. This message helps to counter any shame associated with mental distress, reluctance to talk about it, or reluctance to reach out for help.
With the person's permission, share credible facts with them about COVID-19 from reliable sources, such as this website or other governmental or health authorities.
If the person is open to it, share resources with them about coping with stress and anxiety during the COVID-19 crisis. Continue to check in with the person on a regular basis to offer support and assistance.
Be mindful of your abilities to help in certain situations and know when it is appropriate to refer to professional support. If the person is experiencing high levels of stress or their mental state is significantly hindering their ability to cope, encourage them to reach out for support from a mental health professional. Please see the "Where to Access Help & Resources" section of this website for more information about the community resources that are available during this time.
Support Child Mental Health
Talk to Your Children about COVID-19  
This is a difficult time for children and their loved ones. Children may not fully understood the reasons for school closures, the cancellation of extracurricular activities, and the need for physical distancing requirements. They may also be worried about their own health and that of their parents, family members, and friends. It is important to talk to children about what is happening and provide them with accurate information in an age appropriate manner. This can help them understand why their daily routine has been disrupted, as well as manage any fears or anxieties that come up.
Children's Mental Health Ontario developed a resource to help parents talk to their children about COVID-19. Some of their tips include:
Become informed about COVID-19 yourself and limit news exposure. Correct any misinformation about COVID-19.
Focus on the details that are most relevant and things that you and your child can control.
Limit routine changes where possible.
Share information in as concrete a way as possible. Don't complicate the situation – keep it simple and clear.
Take time to validate their concerns with your words and attention.
Review good hygiene practices and, if appropriate, make fun games out of these habits.
For more great tips, please see CAMH's resource for Talking to Children about COVID-19 and Its Impact or the Ministry of Health and Long-Term Care's resource for Talking to Children about the Pandemic.
Some other helpful resources include:
Seek Help for Child Mental Health Concerns
A child might be struggling with their mental health if they have changes in behaviour or emotions (e.g., angry outbursts or depressed mood) that last most of the day or for a period of time (e.g., more than a week), or interfere with their thoughts, feelings, or daily functioning. In addition, a child may be struggling with their mental health if they tell their parents that they feel sad or anxious a lot or if they express thoughts of hurting themselves. If your child is in a crisis situation, seek help from a mental health professional immediately. For mental health emergencies, or if your child is at an immediate risk to harm themselves or others, call 911 or go to a local emergency department. When visiting an emergency room, individuals will have to participate in an active screening for COVID-19.
If your child is struggling with their mental health, reach out for support from a mental health professional. For more information about the mental health programs, services, and resources available for children during this time, please visit the "Where to Access Help & Resources" section of this website.
Think Of One Another
If you are well, connect with people who may find this time especially stressful, such as:
Older adults and those with chronic health conditions who are at increased risk of COVID-19.
People who have a history of depression, anxiety or substance use disorders.
People who may be heavily impacted by COVID-19 through job loss, health concerns, separation from loved ones, or other issues.
People who have mobility challenges or few social supports.
If you can, offer your support to these individuals by: 
Checking in on them regularly through phone, email, video chat, or other digital methods.
Offering to pick up additional grocery items or other necessities for them if you are heading to the store for food. Place their groceries at the doorstep or porch and contact them to let them know their groceries are outside.

Being mindful of the supplies you keep at home. Excessive stockpiling means that neighbours or other community members may not be able to access those supplies. It can also increase the cost of supplies that are available.
Related Content:
Last modified:
Thursday, June 25, 2020 - 2:05pm