Risk Assessment for Workplaces
Help prevent COVID-19 by following these tips
Maintain a 2 metre distance from others.
Avoid touching your eyes, nose, and mouth with unwashed hands.
Wear a medical or non-medical mask (e.g, cloth) in public settings.
Limit close contacts to your household only.
Stay home and do not go to work or school if you are sick.
Cover mouth and nose with a tissue or use the inside of your elbow when you cough or sneeze.
Wash your hands with soap and water thoroughly & often.
Main Page Content
The risk level in a workplace is affected by the level of COVID-19 transmission in the local community, amongst other factors. In areas where there is known COVID-19 spread, the likelihood that it could be introduced into your workplace or business is higher. 
WECHU has created a COVID-19 Safety Plan Template (PDF) and fillable Word document to help businesses and workplaces develop strategies to mitigate the risks.
Employers should assess the risk for employees and customers by considering the following:
Planning
Does your workplace/business have a pandemic preparedness plan or safety plan?
Do you have a risk communication plan to share information with your employees, contractors, and clients?
Policies and Practices
Can your workplace/business support flexible workplace policies (e.g., teleworking arrangements, staggered hours)?
Where do people gather, such as break rooms, production lines, or meeting rooms? Is there a way of ensuring physical distancing in these environments?
Does your workplace/business offer, or know how to link, your employees to mental health promotion or support services?
Demographics of Your Workforce and Customers/Clients
Do you know if some of your employees/clients are from demographic groups at greater risk of severe disease, such as those 70 or older, or people with underlying medical conditions?
Are your clients at greater risk of spreading the disease (e.g., young children)?
Environment and Workplace Setting
Consider the type of service your workplace/business provides (e.g., customer service, food service, manufacturing, hoteling, rideshare)?
Will employees/clients be participating in activities that promote transmission?
In what setting is your workplace/business located (e.g., a community-setting, large public space, office)?
Is the majority of the work or services carried out indoors, outdoors or both?
Can your workplace/business infrastructure be easily altered or modified to implement public health and infection prevention and control measures (e.g., additional hand cleaning stations, spatial separation of 2-metre between workstations)?
How do clients/customers/contractors primarily access your workplace/business (e.g., by public transit or personal vehicle)?
Are there restricted points of entry and exit that force people to be in close proximity and/or pass through high-touch areas (e.g. turnstiles, fingerprint entry, doors, elevators)?
Environmental Cleaning
Does your workplace have existing environmental cleaning procedures and protocols? Can they be enhanced to align with public health advice?
What surfaces are touched often (e.g., doorknobs, elevator buttons, light switches, equipment, shared tools)? What is the plan to clean and disinfect high-touch surfaces frequently?
Occupational Health and Safety
What job tasks or processes require workers to come into close proximity with one another or members of the public?
What tools, machinery, and equipment are commonly used during the course of their work?
Do your employees have access to Occupational Health and Safety services on site? How will symptomatic individuals in the workplace/business setting be managed? How will close contacts be managed?
Have you or an Occupational Health and Safety member assessed risk associated with employee interactions with the public?
Have you or an Occupational Health and Safety member assessed the risk of employees interacting directly with spaces occupied by the general public?
These questions will help business owners and operators to tailor their COVID-19 workplace safety plan so that it is in alignment with local and provincial public health requirements.
Minimizing the Spread
Hierarchy of Controls for COVID-19
Control measures are the steps you take to reduce the risks to your workers. With an infectious disease like COVID-19 your controls can help break the chain of transmission of the virus. The hierarchy of controls can help you choose the right controls for your workplace. In situations where one or more controls cannot be consistently maintained, it is especially important that other controls are in place. The levels are ordered from most effective to least effective. Focus on implementing the most effective methods first and then move onto the next level of control. In all cases, physical distancing, hand hygiene, and respiratory etiquette must be practiced.
Note: As per the various provincial regulations, municipal bylaws, and local orders, businesses, organizations, and workplaces are now required to ensure that all persons properly wear a mask or face covering while in an indoor area of their premises. For more information about these regulations, bylaws, orders, restrictions, or exemptions related to the wearing of face coverings, visit the Face Masks and Coverings webpage 
Hierarchy of Controls

Public Health Measures

Elimination & Substitution

Allowing workers to work remotely would eliminate the risk of COVID-19 spread in the workplace. This is recommended wherever and whenever possible
Assess the need to report to the workplace in person on an individual or job role basis
People with immunocompromised health conditions (e.g., chronic conditions such as diabetes, heart and lung issues, or cancer) or who live with immunocompromised individuals may need to continue to work remotely
Use technologies to facilitate working remotely such as teleconferencing and virtual meetings

Engineering Controls

Physical barriers (e.g., plexiglass barriers to separate workers from customers)
Increased ventilation and high efficiency filters
Sensors or no- or low-touch controls for water, taps, and garbage lids

Remove unnecessary doors that many people would have to touch

Administrative Controls

Communicate risk and rules
Limit occupancy, stagger shifts/breaks, and create other policies that limit the number of people in a space at one time
Use electronic communications for sign-ins and administrative work
Screen workers and/or customers
Establish contactless curbside pickup
Establish new cleaning and disinfection protocols

Provide education and training on proper hand washing techniques and respiratory etiquette

Personal Protective Equipment (PPE)

For COVID-19 protection, face coverings or other PPE (e.g., respirators, face shields, gowns, non-medical masks) can be used as a workplace control measure in two ways:

As a source control: workers and visitors wear the mask to protect those around them
As personal protective equipment (PPE): workers wear the mask (along with eye protection) to protect themselves.

For more information about face coverings and eye protection, visit WECHU's Face Masks and Coverings webpage.
For more information about the hierarchy of controls, visit the Government of Ontario's website.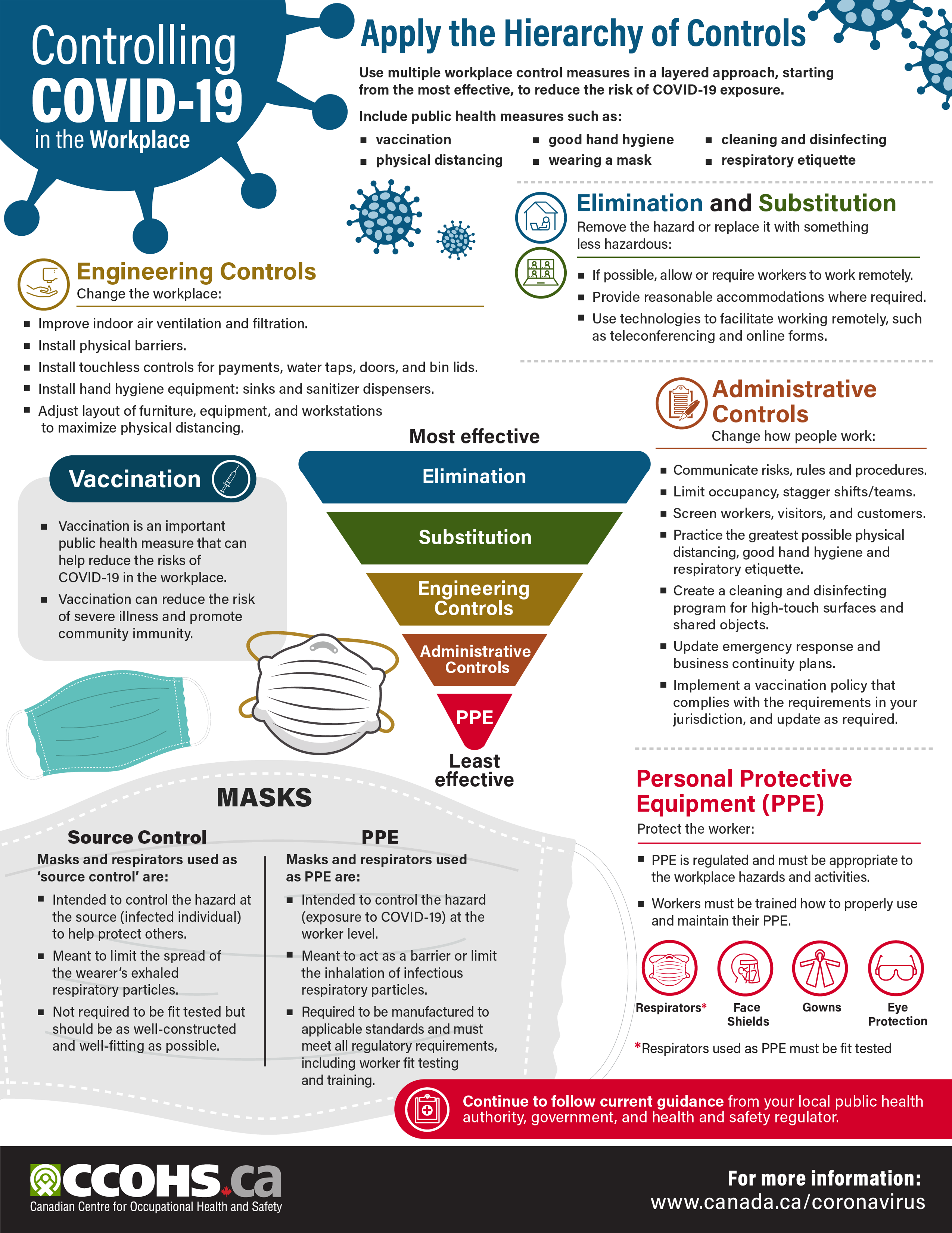 Source: Canadian Centre for Occupational Health and Safety (CCOHS) Controlling COVID-19 in the Workplace Infographic.
Personal Protective Equipment (PPE)
Personal Protective Equipment (PPE) is one of the tools in the hierarchy of controls that can be used to prevent and control COVID-19 transmissions. In order to accomplish this goal, they must be worn, removed, and disposed safely and correctly. Some examples of PPE include masks, respirators, eye protection, gowns, and gloves.
The level of risk of exposure informs the type and combination of PPE that is required for different settings. For more information about high and low risk exposures, visit the 'Have COVID-19 or been exposed?' webpage.
Requirements & Recommendations
Non-medical face coverings are required for both employees and customers when in the workplace, with very limited exceptions. Eye protection for employees is also required in some cases.
Identify workers who are required or may be in close contact with each other
These groups should wear both a mask (e.g., non-surgical, cloth) and eye protection (e.g., face shield, goggles)
If personal protective equipment is provided by the employer, employees must be trained on safe use, care, and limitations, including putting on and taking off equipment and proper disposal.
If work involves direct contact with individuals confirmed or suspected to be infected with COVID-19, or direct contact with COVID-19 contaminated objects or environments, Public Health Ontario recommends that the appropriate personal protective equipment is used, such as gloves, gown, surgical/procedure mask, and face shield or goggles.
Donning & Doffing: How to Wear and Remove PPE
Donning and doffing refers to the proper way in which PPE should be worn. The table below illustrates the correct way the various PPE should be put on and removed after use.
PPE

How to put on and wear correctly

How to remove correctly

Mask

Place mask over the nose and under the chin
Secure ties, loops, or straps

Other instructional resources:

Ties/ear loops or straps are considered 'clean' and may be touched with the hands (Note: the front of the mask is considered to be contaminated)
Remove the straps, tie, or loop from your ear, pulling it forward off the head, bending forward to allow the mask to fall away from the face
If it is a single-use mask, discard it immediately in a waste bin. For cloth masks, place it in a laundry basket.

Eye Protection

Place the protection on the face and adjust it to fit. If it is a face shield, it should fit over the brow

Other instructional resources:

Face Coverings & Eye Protection webpage

Arms of goggles and head band of face shields are considered to be 'clean' and may be touched with the hands
The front of the goggles/face shield is considered to be contaminated
Remove eye protection by handling ear loops, sides or back only
Discard into waste receptacle or into the appropriate to be sent for reprocessing
Personally-owned or assigned eyewear may be cleaned by the individual after each use

Gloves

Before putting on gloves, ensure that you perform hand hygiene (i.e., washing, sanitizing)
When putting on gloves, be sure to take care so that the glove does not become punctured or torn
If a gown is worn, the glove fits over the gown's cuff

Remove gloves using a glove-to glove/skin-to-skin technique. Grasp the outside edge near the wrist and peel away, rolling the glove inside-out. Reach under the second glove and peel away. Discard the used gloves immediately into the appropriate waste bin.

Gown

Tie neck and waist ties securely

Remove gown in a manner that prevents contamination of clothing or skin
Starting with waist ties, then neck ties, pull the gown forward from the neck ties and roll it out so that the contaminated outside of the gown is to the inside
Roll off the arms into a bundle, then discard immediately in a manner that minimizes air disturbance
Other Resources
Related Content:
Last modified:
Wednesday, March 31, 2021 - 10:46am