High Risk Populations
High Risk Populations
What you need to know to help you and your family stay healthy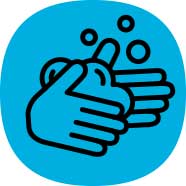 Wash your hands with soap and water thoroughly and often.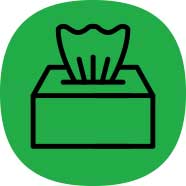 Cough and sneeze into your sleeve or a tissue. Dispose of tissue immediately and wash your hands.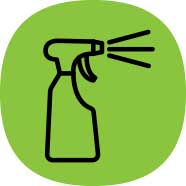 Keep surfaces clean and disinfected.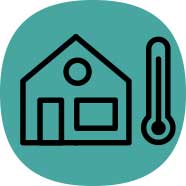 Stay home when you are sick.
Main Page Content
On this page
General Information
Some people are more at risk of getting COVID-19 or other infections and developing severe complications due to their health, social and economic circumstances.
Older Adults
Are older adults at a higher risk of getting sick?
Older adults (aged 70 and over) and those with compromised immune systems and serious pre-existing medical conditions such as heart disease, diabetes, and lung disease are at a higher risk of getting very sick from COVID-19.
Should we be visiting grandparents or older adults?
Simply put, if you have symptoms do not visit. Stay home and get healthy. If you do visit as you consider yourself well enough, continue to practise physical distancing (spacing of 2-metres between everyone not in your social circle). If you have travelled or recently been in a large gathering, you might want to re-think that visit.
New provincial guidelines came into effect in the middle of June that allows individuals from the same household to join into safe social circles, with a maximum of 10 people in that circle. Make your social circles responsibly abide by the steps to be followed to create a social circle. Be strategic on maximizing support for family and friends to reduce social isolation, support for wellbeing, mental health, and caregiving. Those people in the social circle can hug and touch each other and need to continue to follow public health advice.
I am new to caregiving and looking for help. Can you recommend an online site where I can get support?
The Ontario Caregiver Organization has COVID-specific tips, a helpline, and resources to support caregivers.
Here is the link- https://ontariocaregiver.ca/covid-19/
Can you provide me with tips to care for delirium in an older adult when I am visiting by phone or video call.  
There are COVID-19 Resources on the Regional Geriatric Program of Toronto's website to support those caring for older adults. This is a resource that can directly offer support on How to Prevent and Support Delirium in an Older Adult in Hospital or a Care Home, When You Can't Visit In Person.
Are there any scams or fraud around COVID-19 that older adults and vulnerable populations should be aware of?
Unfortunately, yes. As COVID-19 spreads globally, there are scams that have been associated with the outbreak. Fraudsters want to profit from consumers' fears, uncertainties, and misinformation. They are exploiting the situation to facilitate fraud and cyber crimes. For an update list of common scams, tips on how to recognize them, trusted websites, and who to report these to, visit the Canadian Anti-Fraud Centre. Also, the Ontario Securities Commission will answer questions on investing, working with advisors or fraud at 1-877-785-1555.
---
What can older adults do to maintain their health?
Practise healthy eating, and be active, get the recommended amount of sleep, quit smoking or stay smoke-free, and adhere to low-risk drinking guidelines. For many older adults, normal routines have been disrupted with the emergence of COVID-19 and some may be self-monitoring and isolating. In these cases, connecting with friends and family members over the phone is a great way to maintain their sense of connection to others and support mental health.
---
Should older adults take extra precautions?
In addition to taking regular precautions related to COVID-19, older adults should also consider:
Working with their health care providers to obtain an extra supply of necessary medications
Staying in touch with others when self-isolating
Having a plan in the event that they get sick
Determining who can care for them if their caregiver gets sick
Consider ways of getting food brought in to your home to avoid having to go out
---
What happens if you are required to self-isolate but live with people who are over the age of 70?
If anyone in the home has symptoms, it is suggested that they wear a mask.
If there are multiple bathrooms, assign one to the person being isolated.
Make an effort to not overlap with others and consider a separate bedroom or a separate part of the house for the person who is isolated.
Regularly clean and disinfect high-contact surfaces like door knobs, counter tops, and light switches.
People Who Use Substances
Although COVID-19 recommendations have specifically been targeted at older adults and people who suffer underlying medical conditions, people who use substances may also be categorized within the high risk population.
COVID-19 can be fatal especially for people with compromised immune systems as well as those with history of breathing and lung problems. Evidence shows that the odds of COVID-19 infection becoming severe is 14 times higher among people who had a history of smoking compared to those who don't smoke.
Alcohol and opioid drugs are known to have negative effects on the body's immune response, thereby making people who use substances more vulnerable to infections and diseases. Because the virus attacks the lungs, people who inhale, smoke or vape drugs may experience reduced respiratory function, and may even suffer several complications such as acute respiratory distress.
Unsafe drug taking habits such as sharing both drugs and drug taking equipment (nasal and oral), congregating in small spaces and engaging in close and risky behaviours may also contribute to increased risks of COVID-19 infection among people who use substances.
In addition to this, people who use substances may face social challenges – homelessness, no income, food insecurity and unstable housing – which could make it difficult for them to comply with recommendations on social distancing and isolation.
General Information
Recreational drug use often takes place in settings where people are less likely to maintain physical distancing,
High-risk activities for people who use substances who may be less likely or able to follow instructions around physical distancing and more likely to engage behaviours such as sharing drug equipment
Stigma, social marginalization and economic challenges, including a lack of access to housing and health care can add to risk during this time,
Opioid drug misuse can negatively impact the body's immune system. As a result, people who use drugs may be at a higher risk of getting infected with COVID-19 virus,
Withdrawal symptoms can be severe and harmful for those who are not able to access the substances on which they depend due to supply issues caused by COVID-19.
Health Effects of Substance Use
Opioids slow breathing and have been shown to increase mortality in people with respiratory illnesses, like COVID-19.
Methamphetamine has been shown to cause significant lung damage and which could worsen the symptoms of COVID-19.
Alcohol use can negatively impact the immune system as well as respiratory health by weakening the lungs and upper respiratory system, causing a person to be more prone to respiratory diseases.
Marijuana smoke has been shown to cause chronic bronchitis, a respiratory condition that could be worsened by COVID-19
Smoking Crack Cocaine has been associated with lung damage and severe respiratory problems which is a risk factor for COVID-19,
Tobacco and nicotine dependence from the use of cigarettes and vaping devices have been associated with negative health outcomes such as cancer, bronchitis and emphysema
Visit the Windsor Essex Community Opioid and Substance Strategy for more detailed information on the impacts of COVID 19 on people who use substances and those who support them.
---
People Who Smoke
Smoking and COVID-19
People who smoke are generally at higher risk of respiratory tract infections like lung and chest infections. Currently there is not enough evidence that people who smoke are at higher risk for COVID-19, however due to the symptoms of the virus there is a possibility for more negative outcomes for people who smoke.
One of the most important things you can do to protect yourself from COVID-19 is to quit smoking and vaping. It is also important to remember that quitting smoking has many health benefits, beyond that of preventing COVID-19. The Health Unit strongly urges individuals who smoke, vape, or use water pipes to quit. Find more information about local supports and resources available to help you quit smoking on the Quit Smoking section of our website.
---
Resources
Support Lines
If you are looking for support there are a number of COVID-19 Community Helplines that link support for emergency food or mental health. These following local community resources provide support, and helpful information:
Windsor-Essex Seniors Call Assurance Program provides seniors (age 55 and older) with phone call security checks and referrals to local support services. Call (877) 771-2677, Monday to Friday between 9:00 am to 4:00 pm
Windsor-Essex Food Helpline provides emergency food for low-income families and seniors who are self-isolating or require access to prepared meals. Call (888) 488-1578, Monday to Friday 8:30 am-8:30 pm
Windsor-Essex Counselling Support Line provides timely, safe, and responsive counselling support for people experiencing mild to moderate distress. Call (519) 946-3277 with phone lines open every day and all day.
Myths & Facts
If you are becoming confused with the amount of misinformation circulating head to WHO Myth Busters: https://www.who.int/emergencies/diseases/novel-coronavirus-2019/advice-for-public/myth-busters
Support from Credible Associations
There are helpful COVID-19 specific resources on these sites that could support you manage your unique health needs:  
It is important during this time to continue to receive medical care for your chronic conditions especially if you experience any changes to your condition. If you have symptoms such as a fever, a new cough, or are having difficulty breathing get immediate help. If symptoms related to your chronic disease worsen, it is important to seek medical help early. Do your part to take care of any chronic condition, follow credible health advice, and stay as healthy as possible. If you are concerned about heading to see your health care practitioner in person and it is appropriate consider eHealth Windsor Essex options for virtual care.
People Who Are at High Risk for Severe Illness from COVID-19 is available in many languages on this Health Canada site.
World Health Organization- Q&A on smoking and COVID-19
Ontario Tobacco Research Unit- Are Smokers and Vapers at Higher Risk of COVID-19 Infection?
Lung Association- COVID-19: FAQs
Resources for Ontarians Experiencing Mental Health and Addiction Issues During the Pandemic
Related Content:
Last modified:
Wednesday, July 29, 2020 - 9:58am