General Information for Workplaces
General Information for Workplaces
Help prevent COVID-19 by following these tips
Maintain a 2 metre distance from others.
Avoid touching your eyes, nose, and mouth with unwashed hands.
Wear a medical or non-medical mask (e.g, cloth) in public settings.
Limit close contacts to your household only.
Stay home and do not go to work or school if you are sick.
Cover mouth and nose with a tissue or use the inside of your elbow when you cough or sneeze.
Wash your hands with soap and water thoroughly & often.
Main Page Content
The Safe Return to Business (SRTB) Toolkit: A Public Health Toolkit for the Windsor-Essex Business Community has been revised to reflect updated requirements in the Reopening Ontario (A Flexible Response to COVID-19) Act, 2020 and is current as of February 23, 2021.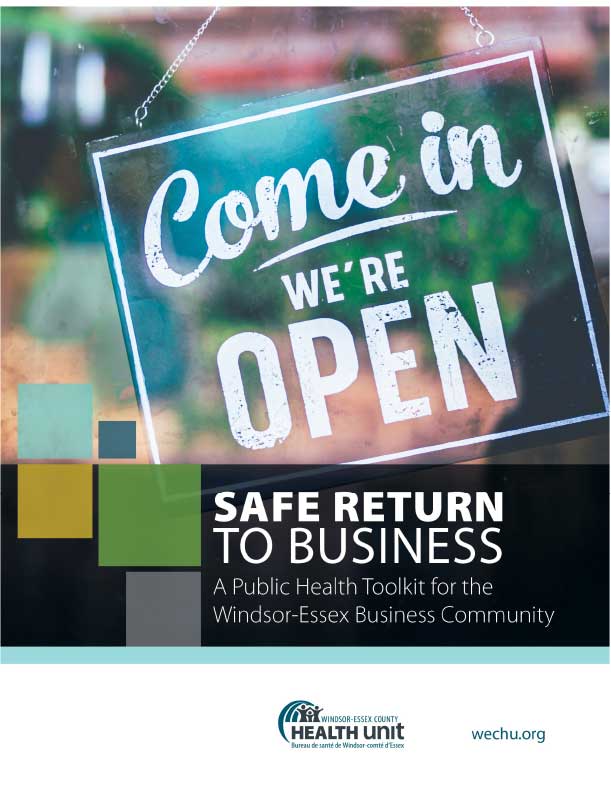 This document provides technical guidance and resources to employers, owners and operators of businesses, and workplaces to assist with COVID-19 prevention in places of work. This guide highlights best practices and may supplement health and safety processes that organizations should already have in place related to the pandemic. Please note that acute care, long-term care and retirement homes, in addition to other workplace settings (e.g., hospitals, clinics, schools), may have their own guidance documents. The information in this document does not take place of any legal advice or rules put in place by any governing body or legislation.
---
Please visit the Government of Ontario's webpage for the latest information outlining provincial restrictions for businesses, places of work, public/private spaces, and more.
For specific information regarding the provincial pandemic status, enhanced public health measures for Windsor-Essex added by Dr. Wajid Ahmed, and local orders and restrictions, please visit our Pandemic Status page.
General Rules & Requirements for all Businesses and Workplaces
All open businesses must:
Screen employees and customers
Post signs at all entrances informing people how to screen themselves for COVID-19 before entry
Limit capacity so guests can stay at least 2 metres apart
Ensure everyone indoors wears a mask or face covering, including workers who have to come within 2 metres of anyone else (with some exceptions)
Make sure workers use personal protective equipment (PPE) that protects their eyes, nose and mouth when they must come within 2 metres of anyone who is not wearing a mask or face covering or separated by plexiglass
Clean and disinfect often-touched surfaces, such as equipment, washrooms, locker rooms, change rooms and showers frequently
Manage line ups to make sure customers are at least two metres apart wearing face coverings or masks
Create a safety plan, post it in a place where workers and patrons will see it and have it available upon request (for example, to inspectors or law enforcement officers)
COVID-19 Risk Factors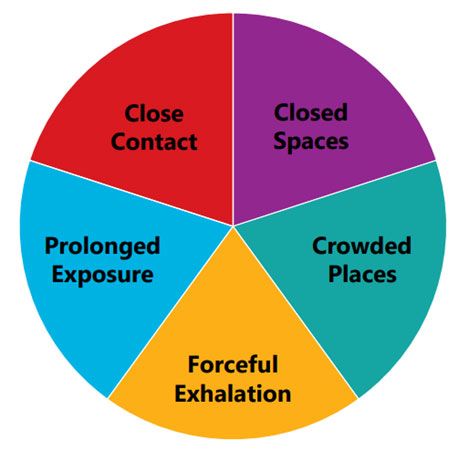 There are several risk factors that increase the risk of spreading COVID-19. Close contact is the highest risk. This type of high-risk contact typically occurs in closed spaces, crowded areas, and involves prolonged exposure. Personal and public health measures — such as physical distancing, wearing a face covering, staying home when ill, frequent handwashing and environmental cleaning and disinfection have significant benefits and have been proven to limit COVID-19 transmission.
Related Content:
Last modified:
Monday, June 14, 2021 - 4:05pm