Nutrition and Access to Food
Nutrition and Access to Food
What you need to know to help you and your family stay healthy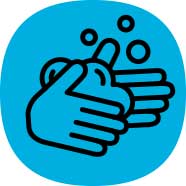 Wash your hands with soap and water thoroughly and often.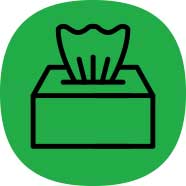 Cough and sneeze into your sleeve or a tissue. Dispose of tissue immediately and wash your hands.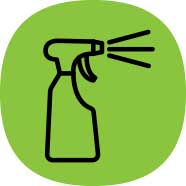 Keep surfaces clean and disinfected.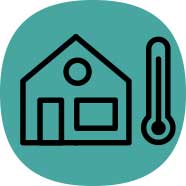 Stay home when you are sick.
Main Page Content
On this page
General Information
You may be asked to stay home for 14 days and self isolate. Make sure you are prepared if this happens and have enough food at home to last you during this period. Choose a variety of foods including foods that have protein (e.g., chicken, meat, beans, lentils, tofu, cheese, milk, etc.), whole grains (e.g., rice, quinoa, whole grain breads, etc.), and vegetables and fruit (fresh, frozen or canned). Remember that there is not need to rush and "stockpile" food and other essential supplies. Plan what your family will need and purchase these items gradually.
If you are currently under self-isolation or quarantine and did not get a chance to run to the grocery store, reach out to a family member, neighbour or friend for help getting essential supplies (food, personal care products, household products, or medications). Please ask them to drop off the food or supplies at the door to minimize contact.
You can also try delivery programs through grocery stores, pharmacies, or internet applications, meal subscription services, or take out from local restaurants.
Food Access Issues
Unfortunately, many families in our local community are experiencing issues with accessing food; whether it be because of un-paid time off due to the recent closures, lack of transportation, or lack of availability of food at local retail stores.
During pandemic times, all households are at risk of having food access issues. However, there are groups of people who are at higher risk including,
Households with seniors
Households dependent on social assistance for income
Households working for low-paying wages
Households led by females as lone parents
Renters
Post-secondary students
Frequently Asked Questions
What food should you have on hand if you need to self-isolate?
In the event that you become ill or have been exposed to COVID-19, you may need to stay home for 14 days. The goal is to be prepared and purchase items gradually, so that you will have extra food on hand, without "stockpiling" all at once.
Fresh veggies with a longer shelf life like beets, carrots, parsnips, rutabaga, turnip, potatoes, yams, cabbage, squash, onions
Fresh fruit with a longer shelf life: apples, melon, oranges, grapefruit.
Frozen vegetables and fruit, canned vegetables and fruit, dried fruit, applesauce, tomato sauce, 100% vegetable and fruit juice
Grains like rice, couscous, quinoa, bread (with a longer shelf life), tortillas, pasta, cold dry and hot cereals, bread rusks, crackers
Frozen and canned meat and fish, soup, stews
Yogurt, eggs, hard cheese, non-refrigerated milk and plant-based beverages, milk powder, evaporated milk
Canned and dried beans, chickpeas, lentils, nuts, seeds, nut butters
Flour, oil, butter or margarine, coffee, tea, hot chocolate, jam/honey, sugar, granola bars, cookies, bouillon cubes, spices, condiments
Breastmilk substitutes (if applicable)
---
What services are available to buy food if you cannot leave your home?
Groceries home delivery programs:
Example: Real Canadian Superstore, Walmart, Amazon
A mix of perishable and non-perishable items as well as household products (e.g., diapers, wipes, etc.)
In-store pick up as well as home delivery options available with a fee
Pharmacy home delivery programs:
Example: Shoppers Drug Mart, Real Canadian Superstore
A mix of prescription and over-the-counter medication, depending on pharmacy
In-store pick up as well as home delivery options available with a fee (depending on pharmacy)
Meal subscription services
Example: The Meal Prep, Macro Foods, Hello Fresh, Chefs Plate, Goodfood, etc.
These services will deliver fresh meals or ingredients to make meals to your home
Meals on wheels for seniors or people with limited mobility
Meals on Wheels services prepare and provide regular delivery of meals to the elderly or individuals with disabilities (approximate cost of meal is $7). Programs currently servicing the Amherstburg, Belle River, Leamington, and Windsor area.
For more information visit: Meal Delivery Services - Erie St Clair.
---
Where can you go to access food if you need it?
If you are unable to afford food, emergency food services in Windsor and Essex County are available to help. You can visit the Windsor-Essex food bank association at http://wefba.ca/ to find a food bank near you.
As the situation is ever changing, please call the food bank before going to ensure that the posted hours of operation are still in effect, or to schedule a pick-up appointment.
Services like Meals-On-Wheels are also available for those who struggle to get out of the house to obtain food. Again, please call before to check the operation schedule.
---
What can you do to support those who are having issues accessing food?
If you are looking to assist those who may be having issues accessing food, here are some ways you can support:
Offer to pick up additional grocery items for a neighbour or older family member if you are heading to a store for food.
Donate money or food to a local food bank. Often food banks have bulk purchasing power, so monetary donations will allow them to stretch your donation further. Donate at http://www.unitedway.ca/Covid-19/ today.
Do not hoard or unnecessarily stockpile food items for yourself. Often, those basic non-perishable items (e.g., rice, pasta, canned beans) are low cost. Someone with limited income could need these items for their basic food pantry, and cannot afford to purchase other, more expensive food items. In addition, food insecure individuals may not have the income to purchase a gradual supply of additional food items, or have the storage capability to store these items, and may need to access the store more frequently.
---
What safety measures should I follow when handling or preparing food at home to reduce the spread of virus?
There is no current evidence that food is a likely source or route of transmission of the COVID-19 virus. However, it is recommended that good hygiene practices are followed during food handling and preparation to prevent the spread of germs.
Avoid bare hand contact when handling foods. Make sure to wash your hands with soap and water:
Before, during, and after preparing any food
After handling raw meat, poultry, seafood, and eggs
Before eating
After touching garbage
After wiping counters or cleaning surfaces with chemicals
After using the washroom
After changing diapers
After touching pets, pet food, or pet treats
After coughing, sneezing, or blowing your nose
After using serving utensils
Wash your hands even when wearing gloves, as contaminated gloves can spread germs to your hands when removing the gloves.
Wash your hands after using serving utensils.
Disinfect and dry commonly-used surfaces such as countertops and cutting boards, as dampness can help remaining viruses survive and multiply. Use disposable cloths or paper towels when possible.
As an extra precaution to help avoid the transmission of COVID-19 through surface contact, we recommend frequent washing and sanitizing of all food contact surfaces, equipment, and utensils. Follow the four basic steps of cleaning equipment and dishware: pre-rinse, clean with detergent, rinse, and sanitize.
---
Can cooking kill the COVID-19 virus?
Normal cooking temperatures for foods will kill COVID-19 and other microbes in food. As with other microbes, it is recommended to cook meat thoroughly and always use a thermometer to check that the internal temperature of the food has reached 74°C. It is also advised that raw meat products be handled with care to avoid potential cross-contamination between cooked and uncooked foods. Avoid touching eyes, nose, face or mouth after touching animal products.
As a general public safety rule, we do not recommend that people consume raw meat or unpasteurized dairy products.
---
Does the COVID-19 virus grow on food? Should I be concerned about storing foods in my cupboard, fridge, or freezer?
COVID-19 is a virus and does not grow. It may survive in foods and on surfaces like plastic, glass, metal for a few hours to a few days before it dies off. However, it is not believed that COVID-19 is transmitted to people via contaminated food.
The virus is transmitted by droplets spread from a sick person. If the COVID-19 virus is on the surface of a food and stored in a cupboard, fridge, or freezer, there is no evidence that it can grow or multiply further. We do not know if COVID-19 can survive refrigerator or freezer temperatures.
---
Can the COVID-19 virus be passed on by eating or touching ready to eat foods made by others?
There is no evidence that COVID-19 is spread through food made by infected people. COVID-19 is spread from person-to-person through respiratory droplets. There is a theoretical risk that a person infected with COVID-19 could spread the virus by sneezing on food or by directly touching food with infected hands. However, there have been no cases reported of such transmission with COVID-19. To be safe, if you are sick with COVID-19, do not prepare or handle food for others.
---
Can COVID-19 be passed on by eating or touching raw fruits and vegetables?
There is no evidence that COVID-19 is spread through eating or touching raw fruits or vegetables. When preparing fresh fruits and vegetables, wash or scrub them under cold, running, potable tap water prior to consumption.
Keep fruits and vegetables separate from raw foods to avoid potential cross-contamination.
At the grocery store, only handle (touch) the fresh fruits and vegetables that you plan to buy (as a courtesy to other customers) and to limit any hand transfer of germs.
---
Resources
Related Content:
Last modified:
Saturday, March 28, 2020 - 3:54pm