Face Masks and Coverings
What you need to know to help you and your family stay healthy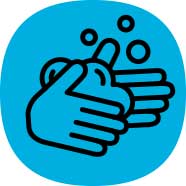 Wash your hands with soap and water thoroughly and often.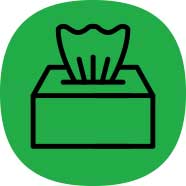 Cough and sneeze into your sleeve or a tissue. Dispose of tissue immediately and wash your hands.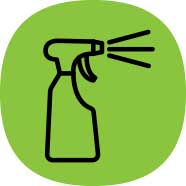 Keep surfaces clean and disinfected.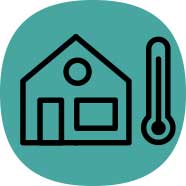 Stay home when you are sick.
Main Page Content
COVID-19 spreads mainly from person-to-person through contaminated respiratory droplets when an infected person coughs, sneezes, or talks. As droplets can travel up to 2 metres (6 feet), wearing a face covering will help prevent respiratory droplets from reaching others or landing on surfaces.
Wearing a face covering in public spaces protects others from your respiratory droplets. This is especially important in situations where physical distancing is often difficult or inconsistent such as commercial establishments.
On June 23rd, 2020 the Medical Officer of Health of the Windsor-Essex County Health Unit issued a Section 22 Order for mandatory face coverings in commercial establishments. Similar mandatory face mask orders for indoor public spaces have since been issued across metropolitan centres in Ontario, and many local municipalities have built upon the Medical Officer of Health's Order to enhance restrictions. On September 15, 2020 the Medical Officer of Health updated the order to include public libraries.
The use of face coverings is a simple but effective personal practice to prevent the spread of COVID-19. It must be used in combination with good hand hygiene, not touching your face, and ensuring physical distancing whenever possible.
---
Face Covering Orders and By-laws
WECHU Section 22 Class Order
By Order of the local Medical Officer of Health all owners or operators of a commercial establishment in Windsor-Essex must have a policy in place which prohibits the entry of any person who is not wearing a face covering, unless the person cannot wear one due to medical reasons or age.
Commercial establishments as defined in the order include any place that is open to the public and offer goods and/or services for sale including:
Retail stores
Convenience stores
Malls/plazas
Restaurants
Personal service settings
Grocery stores and bakeries
Gas stations
Farmer's markets
Mechanic shops and car dealerships
Public Libraries
COVID-19 is spread from person to person through infected respiratory droplets when individuals are in close contact. When worn appropriately, non-medical facemasks can be a simple but effective way to reduce the spread of COVID-19 from person to person.
For inquiries or complaints related to the Face coverings order:
Call the WECHU at 519-258-2146 ext. 4510 or email masks@wechu.org.
For more information:
---
Other Local Face Covering Orders and By-laws
The Section 22 Order: Face Coverings and Hand Sanitizer in Commercial Settings mandates the wearing of face coverings and the availability of hand sanitizer in commercial establishments. Municipalities and organizations have created further regulations through the development of face-covering policies. Several local municipalities have included further spaces where masks are required by passing by-laws.
Areas Covered by Local Orders and By-laws
| Setting | WECHU (Applies to City and County Municipalities) | City of Windsor | Town of Amherstburg | Town of Lakeshore | Municipality of Leamington | Town of Tecumseh |
| --- | --- | --- | --- | --- | --- | --- |
| Commercial businesses | X | X | X | X | X |   |
| Churches and Faith-based settings* |   | X | X | X |   |   |
| Libraries | X | X | X | X | X | X |
| Bars/Restaurants | X | X | X | X | X |   |
| Municipally owned buildings/ facilities |   |   | X | X |   | X |
| Community centers |   | X | X | X | X | X |
| Indoor recreational facilities |   | X | X | X |   |   |
| Art galleries, museums, aquariums, zoos, and other similar facilities |   | X | X | X | X |   |
| Personal service settings | X |   |   |   | X |   |
| Common areas of hotels and motels |   | X | X | X | X |   |
| Public and private transit vehicles (bus, taxi) |   | X | X |   | X |   |
| Event spaces (Banquet Halls, Convention centres) |   | X | X | X | X |   |
| Indoor entertainment facilities (e.g. Concert venues, theatres, casinos and cinemas, arenas) |   | X | X | X | X |   |
| Common areas of residential apartments/condominiums |   | X | X |   |   |   |
| Open house/presentation centre for real-estate |   | X | X | X |   |   |
| Community service office |   |   | X | X | X |   |
| Laundromat | X | X | X |   | X |   |
* The temporary removal of a non-medical face covering while conducting or participating in religious ceremonies is permitted. For further questions, contact the municipality directly.
How to Wear a Mask
Masks which have multiple layers of tightly woven fabric which fit tightly to the face and cover the nose, mouth, and chin with no gaps, provide the best protection against inhaling contaminated particles from the air, or releasing such particles into the air where they could reach other people, or land on surfaces.
How to properly wear, fit, remove and clean your non-medical face mask:
---
Why masks are important
Stopping Virus Transmission at the Source
COVID-19 is transmitted from person to person predominantly through respiratory droplets that are released from the nose and mouth, through contact with contaminated surfaces, and through poor hand hygiene. It may be transmitted from persons who have minimal or no signs or symptoms of illness.
Wearing of masks may help protect you from inhaling contaminated particles in the air through your nose and mouth (Konda et al., 2020), but, more importantly, masks keep contaminated particles in the mask (given off when individuals talk, sneeze, or cough) so they are not available to spread in the air to others, or to fall on a surface and be picked up by touch (MacIntyre & Chughtai, 2020).
---
Strong Evidence* for Prevention of COVID-19
The widespread use of face coverings by all persons decreases spread of respiratory droplets, and expert opinion supports the widespread use of face coverings to decrease transmission of COVID-19. In a large-scale review analyzing the trends of the spread of COVID-19 in Wuhan, China, as well as Italy, and New York City, researchers found that the use of mandated face coverings was the key factor in reducing the number of infections in these major centres.
According to the researchers of the above pandemic trends, wearing face coverings in public is the most effective means to prevent transmission between humans, as physical distancing alone may not be sufficient in preventing the spread. Based on what is being seen across the world, the combination of mask wearing, physical distancing, isolation of positive cases, and contact tracing, offers the best chance at stopping the COVID-19 pandemic (Zhang, Li, Zhang, Wang, & Mario, 2020).
---
*EVIDENCE AND STUDIES ON FACE COVERINGS
Alberta Health Services COVID-19 Scientific Advisory Group. Rapid Response Report: What is the effectiveness of wearing medical masks, including home-made masks, to reduce the spread of COVID-19 in the community? Updated 2020 June. 
Arp NL, Nguyen TH, Graham Linck EJ et al. Use of face coverings in public during the COVID-19 pandemic: an observational study. Preprint. medRxiv. Posted 2020 Jun 12.   
Aydin O, Emon B, Saif MTA. Performance of fabrics for home-made masks against spread of respiratory infection through droplets: a quantitative mechanistic study. Preprint. medRxiv. Posted 2020 April 24.
Centres for Disease Control and Prevention (CDC). Considerations for wearing cloth face coverings. 2020 July 16. 
Chan JF, Yuan S, Zhang AJ et al. Surgical mask partition reduces the risk of non-contact transmission in a golden syrian hamster model for Coronavirus Disease 2019 (COVID-19). Clin Infect Dis. 2020 May 30.
Cheng VC, Wong SC, Chuang VW et al. The role of community-wide wearing of face mask for control of coronavirus disease 2019 (COVID-19) epidemic due to SARS-CoV-2. J Infect. 2020;81(1):107-114.
Chu DK, Akl EA, Duda S et al. Physical distancing, face masks, and eye protection to prevent person-to-person transmission of SARS-CoV-2 and COVID-19: a systematic review and meta-analysis. Lancet. 2020 395 (10242) :1973-1987.
Davies A, Thompson KA, Giri K, Kafatos G, Walker J, Bennett A. Testing the efficacy of homemade masks: would they protect in an influenza pandemic? Disaster Med Public Health Prep. 2013;7(4):413-8. 
Eikenberry SE, Mancuso M, Iboi E et al. To mask or not to mask: Modeling the potential for face mask use by the general public to curtail the COVID-19 pandemic. Infect Dis Model; 5: 293-308.
European Centre for Disease Prevention and Control. Using face masks in the community. Stockholm: ECDC; 2020.
Furukawa NW, Brooks, JT, Sobel J. Evidence supporting transmission of Severe Acute Respiratory Syndrome Coronavirus 2 while presymptomatic or asymptomatic. EID Journal. 2020; 26(7).
Gandhi M, Havlir D. The Time for universal masking of the public for Coronavirus Disease 2019 is now. Open Forum Infect Dis. 2020;7(4). 
Hong LX, Lin A, He ZB et al. Mask wearing in pre-symptomatic patients prevents SARS-CoV-2 transmission: An epidemiological analysis. Travel Med Infect Dis. 2020;36:101803.   
Kai D, Goldstein G, Morgunov A et al. Universal masking is urgent in the COVID-19 pandemic: SEIR and agent based models, empirical validation, policy recommendations. Preprint. arXiv. Posted 2020 April 22.
Kenyon C. Widespread use of face masks in public may slow the spread of SARS CoV-2: an ecological study. Preprint. medRxiv. Posted 2020 April 6.
Konda, A., Prakash, A., Moss, G., Schmoldt, M., Grant, G., and Guha, S. (2020). Aerosol Filtration Efficiency of Common Fabrics Used in Respiratory Cloth Masks. American Chemical Society Nano, 14(5), 6339–6347. doi: 10.1021/acsnano.0c03252
Leffler CT, Ing E, Lykins JD, McKeown CA, Grzybowski A. Country-wide coronavirus mortality and use of masks by the public. Submitted for publication 2020 April 22.
Liang M, Gao L, Cheng C, et al. Efficacy of face mask in preventing respiratory virus transmission: a systematic review and meta-analysis. Travel Med Infect Dis. 2020 May 28.
Lyu W, Wehby GL. Community use of face masks and COVID-19: evidence from a natural experiment of State mandates in the US. Health Affairs. 2020 June 16.
Ma QX, Shan H, Zhang HL, Li GM, Yang RM, Chen JM. Potential utilities of mask-wearing and instant hand hygiene for fighting SARS-CoV-2. J Med Virol. 2020 March.
MacIntyre CR, Chughtai AA. A rapid systematic review of the efficacy of face masks and respirators against coronaviruses and other respiratory transmissible viruses for the community, healthcare workers and sick patients. Int J Nurs Stud.2020; 108(103629).
Marchiori, M. COVID-19 and the social distancing paradox: dangers and solutions. Preprint. arXiv. Posted 2020 May 26.
Mitze, T., Kosfeld, R., Rode, J., Walde, K. Face masks considerably reduce COVID-19 cases in Germany: A synthetic control method approach. Bonn, Germany. IZA Institute of Labor Economics. 2020 June. 
Public Health Ontario. COVID-19 – what we know so far about…wearing masks in public. 2020 June 17.
Rodriguez-Palacios A, Cominelli  F, Basson AR,  Pizarro TT, Ilic S.  Textile masks and surface covers-a spray simulation method and a "Universal Droplet Reduction Model" against respiratory pandemics Front Med (Lausanne). 2020 May 27;7:260.  
Střížová Z, Bartůňková J, Smrž D. Can wearing face masks in public affect transmission route and viral load in COVID-19? Cent Eur J Public Health. 2020;28(2):161-162. 
Tao Z, Dong J and Culleton R. The use of facemasks may not lead to an increase in hand-face contact. Transbound Emerg Dis. 2020 Jun 28. doi: 10.1111/tbed.13698.  
Wang J, Pan L, Tang S et al. Mask use during COVID-19: A risk adjusted strategy. Environ Pollut. 2020 Jun 25;266:115099.   
Worby CJ, Chang HH. Face mask use in the general population and optimal resource allocation during the COVID-19 pandemic. Preprint. medRxiv. Posted 2020 Apr 7.
Zhang, R., Li, Y. Zhang, A., Wang, Y., Mario, M. (2020). Identifying airborne transmission as the dominant route for the spread of COVID-19. Proceedings of the National Academy of Sciences of the United States of America, 117(26): 14857-14863. doi: 10.1073/pnas.2009637117
Related Content:
Last modified:
Wednesday, September 16, 2020 - 10:27am