COVID-19 Vaccine Information for Workplaces: Business Owners and Employees
COVID-19 Vaccine Information for Workplaces: Business Owners and Employees
Main Page Content
COVID-19 Vaccine Policy Support Package for Employers
Employers play an important role in building vaccine confidence among employees in the workplace. Vaccination increases a person's ability to fight infection if they are exposed to a specific virus – in this case, COVID-19. If you have employees that have not yet received their COVID-19 vaccine, giving employees the opportunity to share their concern about vaccines can help increase vaccine literacy, identify barriers to vaccination, and help employees know what to expect before and after getting their vaccine.
This WECHU has created a COVID-19 Vaccine Policy Support Package for Employers to provide guidance on how to establish a mandatory COVID-19 vaccination policy, including a sample policy and procedure.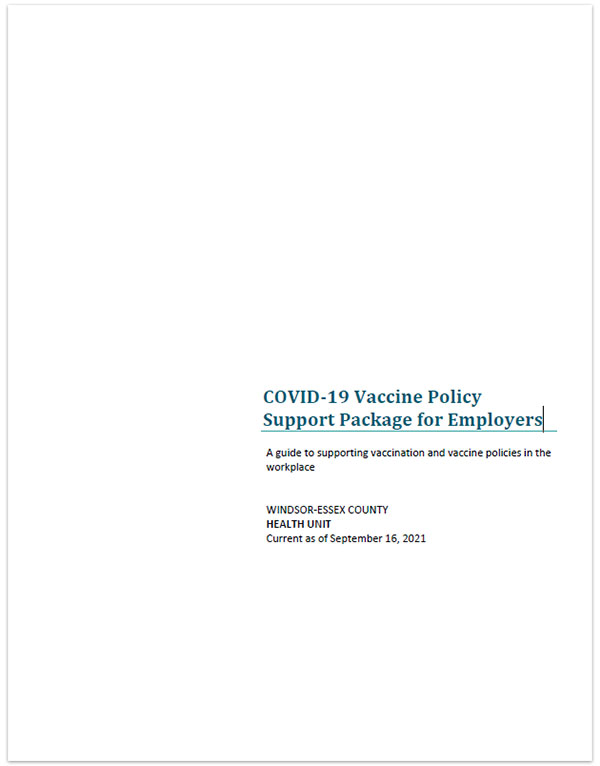 Download Support Package
---
Lead by Example – Get your own vaccine, speak with your employees about your experience, and encourage them to follow your lead. This could instill trust and help build confidence amongst your team. In addition, consult with your legal representation regarding how best to implement a vaccination policy at your workplace.
Communicate clearly – Create a plan to share credible information about COVID-19 vaccines. Use webinars, COVID-19 fact sheets, email newsletters, stickers, posters, etc.
Identify Workplace Vaccine Champions – Encourage influential workers and leaders at the workplace to be vaccine champions and ensure that they reflect the diversity of the workforce.
Offer time - Consider offering time off for your employees to get their vaccine. When possible, offer flexible sick leave options for employees experiencing side effects after vaccination.
Make it Easy:

Consider staggering employee shifts to account for time off taken to get vaccinated and avoid worker shortages.
Help your employees to book their appointment or to locate a clinic near them for a walk-up appointment and post information about nearby vaccination clinics in common areas.
Educational resources on COVID-19 vaccines have been created to provide credible information and education to employees wanting to be exempt from a vaccine policy.
Resources:
Videos:
eLearning Modules:
Frequently Asked Questions About COVID-19 Vaccinations
---
Proof of Vaccination Guidance for Businesses and Organizations under the Reopening Ontario Act
Effective September 22, 2021, patrons seeking access to certain areas of a business or organization must show proof of identification and proof of being fully vaccinated against COVID-19 before they can enter the area.
Download WECHU Poster: "You Must be Fully Vaccinated to Enter" for businesses and organizations required to check for proof of vaccination.
For a list of these locations and for guidance on how to implement this requirement, please review:
Please note that per the Letter of Instruction issued on September 27, 2021, all owners, operators and persons responsible for facilities used for sports and recreational fitness activities located in Windsor-Essex County Health Unit service area will be required to adopt the additional instructions regarding proof of vaccination requirements.
In Ontario, an individual is considered fully vaccinated if they have received:
The full series of a COVID-19 vaccine authorized by Health Canada, or any combination of such vaccines,
One or two doses of a COVID-19 vaccine not authorized by Health Canada, followed by one dose of a COVID-19 mRNA vaccine authorized by Health Canada, or
Three doses of a COVID-19 vaccine not authorized by Health Canada; and
They received their final dose of the COVID-19 vaccine at least 14 days ago.