COVID-19 School Outbreak
What you need to know to help you and your family stay healthy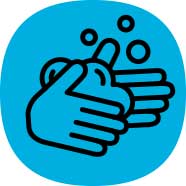 Wash your hands with soap and water thoroughly and often.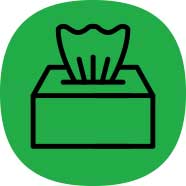 Cough and sneeze into your sleeve or a tissue. Dispose of tissue immediately and wash your hands.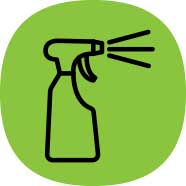 Keep surfaces clean and disinfected.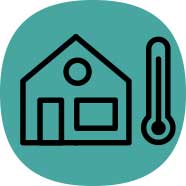 Stay home when you are sick.
Main Page Content
COVID-19 Outbreaks in a school setting are only declared by Public Health under the direction of the local Medical Officer of Health. As per the Ministry of Health and Ministry of Education guidance, an outbreak is declared in a school when there are two or more lab-confirmed COVID-19 cases in students and/or staff (or other visitors) in a school with an epidemiological link, within a 14-day period, where at least one case could have reasonably acquired their infection* in the school (including transportation and before/after school care).
*Examples of reasonably having acquired infection in school include:
No obvious source of infection outside of the school setting; OR
Known exposure in the school setting
When a school outbreak is declared local public health provide oversight and direction and determines the actions associated with the school in outbreak and when the outbreak is resolved. This includes providing direction for cleaning and disinfection, isolation and testing.
Partial School dismissal
During a declared outbreak the school may remain open while some classes are closed. Public health will continue to monitor the situation and work with the school community to ensure that staff and students health and safety remains the top priority. Outbreak measures during a partial school outbreak may include:
Enhanced screening and assessment
Restricting visitors and movement within the school and between staff and students
Restricting or discontinuing activities and extra-curricular
Enhanced cleaning and disinfection
Enhanced signage and education recommendations
Students and staff that are associated with affected cohorts/classes that are in closure will be advised by public health for testing and self-isolation.
Whole School Dismissal
Based on an assessment of the epidemiological data related to a declared school outbreak, under the direction of the Medical Officer of Health, the health unit may determine a dismissal of the whole school community is needed. This action may be required to contain an outbreak when there is evidence of potential widespread transmission within the school.
Outbreak measures during a whole school dismissal may include:
Recommendations for self-isolation of all affected staff, visitors and students
Recommendations for COVID-19 testing of all affected staff, visitors and students
Closure of the school and signage of outbreak to be posted
Cleaning and disinfecting of the school
Declaring the outbreak over
Based on Ministry of Health and Ministry of Education guidance a school outbreak may be declared over or resolved when at least 14 days have passed with no evidence of ongoing transmission at the school.
Taking Care of Your Mental Health
Coping with public health measures related to COVID-19 can cause stress and anxiety for students, staff and their families. An outbreak can cause fear and increase stress related to COVID-19. It is important for you to remain calm and seek out answers to your questions from credible and reliable source.
For resources and information to assist you visit the mental health section of our website.
Schools in Outbreak
To view any current schools in outbreak, visit our Local COVID-19 Data page.
Self-Isolation
Due to a high-risk exposure to COVID-19, students and staff that attend these elementary schools are advised to self-isolate at home for a minimum period of 14-days.  Students and staff should monitor for symptoms of COVID-19 and get tested immediately if they become symptomatic.
To self-isolate:
Stay home and limit interaction with others in the household. If you are caring for a child ensure that you where appropriate personal protective equipment when not physically distanced.
Do not leave your place of isolation unless to seek medical care or for COVID testing.
Do not use public transportation (buses, trains). If you need to use a vehicle to seek medical attention use a private taxi or rideshare. Wear a mask, roll the window down and sit on the opposite side from the driver.
Attend school virtually
Stay in a separate room in the house and use a separate bathroom if possible. If this is not possible ensure cleaning after each use and maintain physical distancing at all times.
For further instructions in multiple languages visit Health Canada's website.
Related Content:
Last modified:
Thursday, December 17, 2020 - 3:55pm