About COVID-19
About COVID-19
What you need to know to help you and your family stay healthy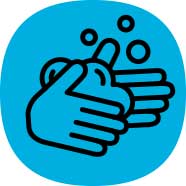 Wash your hands with soap and water thoroughly and often.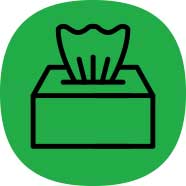 Cough and sneeze into your sleeve or a tissue. Dispose of tissue immediately and wash your hands.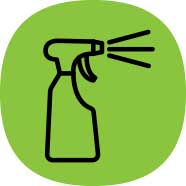 Keep surfaces clean and disinfected.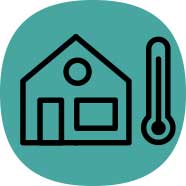 Stay home when you are sick.
Main Page Content
What is COVID-19?
COVID-19 is an acute respiratory infection caused by a coronavirus strain that began spreading in people in December 2019 in Wuhan, China. It is a new respiratory virus and it can cause mild to severe illness in people. The COVID-19 virus is not the same as the other coronaviruses that commonly circulate among people and cause mild illness, like the common cold.
How COVID-19 Spreads
Person-to-person
COVID-19 spreads mainly from person-to-person, through close contact with others and through respiratory droplets when an infected person coughs or sneezes. This is similar to how influenza also spreads.
Spread from contact with contaminated surfaces or objects
The virus can also spread when someone touches an object or surfaces with the virus on it, and then touches their mouth, face, or eyes.
Common symptoms of COVID-19 include
Fever (temperature of 37.8°C or greater)
New or worsening cough
Shortness of breath (dyspnea)
Other symptoms of COVID-19 can include
Sore throat
Difficulty swallowing
New olfactory or taste disorder(s)
Nausea/vomiting, diarrhea, abdominal pain
Runny nose, or nasal congestion – in absence of underlying reason for these symptoms such as seasonal allergies, post nasal drip, etc.
Other signs of COVID-19 can include
Clinical or radiological evidence of pneumonia
Atypical symptoms can include
Unexplained fatigue/malaise/myalgias
Delirium (acutely altered mental status and inattention)
Unexplained or increased number of falls
Acute functional decline
Exacerbation of chronic conditions
Chills
Headaches
Croup
Conjunctivitis
Multisystem inflammatory vasculitis in children

Presentation may include persistent fever, abdominal pain, conjunctivitis, gastrointestinal symptoms (nausea vomiting and diarrhea) and rash
Diagnosis
COVID-19 infections are diagnosed by a health care provider, based on the symptoms, and are confirmed through laboratory tests.
Treatment
There is currently no vaccine to prevent a COVID-19 infection, nor is there a treatment currently for COVID-19. Individuals with COVID-19 should drink plenty of fluids (stay hydrated) and get plenty of rest. To prevent an infection, it is best to avoid exposure to the virus.
---
For more information:
---
Resources:
COVID-19 test and testing location information
You were tested for COVID-19: What you should know
COVID-19 Provincial Testing Guidance Update - FR
Related Content:
Last modified:
Friday, October 23, 2020 - 11:33am